The Best Bathroom Remodel In Sun City, AZ
If you're planning a bathroom remodel in Sun City, AZ, we've got good news!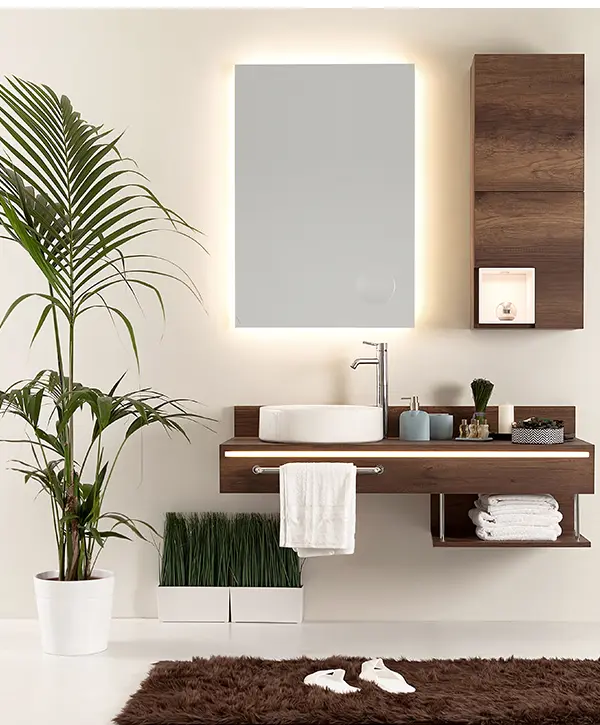 Offcut Interiors provides an altogether different bathroom remodeling experience for senior homeowners in Sun City and the surrounding areas, focusing on your well-being and comfort every step of the way!
Rather than going through a lengthy and stressful process, our complete remodeling service will have you fully enjoy the excitement of getting a new bath that simply makes living in your home much easier!
Years of experience in remodeling, project management, and design will guarantee we'll execute your vision to perfection and see your project through.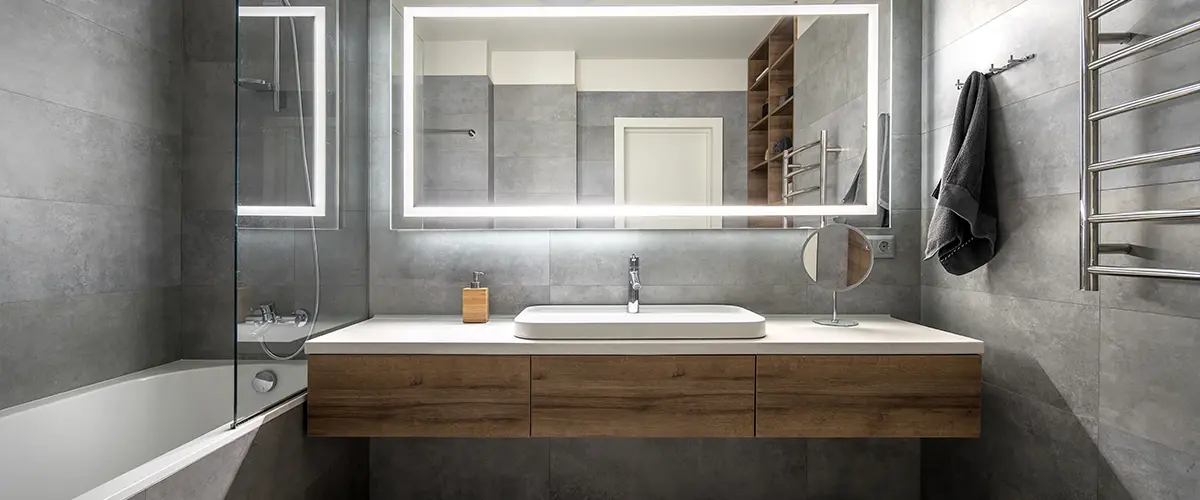 We'll Make Sure You'll Come Back For More
We're a team of dedicated workers that always puts our best foot forward in every bathroom remodeling project – big or small. We'll make sure your new bath turns out just like you wanted, and to make that happen, we'll bring a lot more to the table!
Get Your Premium Remodel With The Best Contractor In Town!
A top-notch bathroom remodeling company eliminates any doubt, stress, and anxiety that typically comes with home improvement projects.
Offcut Interiors offers a seamless process from start to finish, ensuring that you can sit back and relax while your dream bathroom becomes a reality.
We pledge to always keep your best interests at heart. Your questions and concerns will be our top priority, and we'll do whatever it takes to ensure that you're comfortable while the work is in progress, and over the moon with the end product.
You'll have a team of professionals working tirelessly on your behalf, and you'll see the fruits of their labor from the very beginning!
Homeowners Love Their Bathroom Remodeling In Sun City, AZ
We treat each of our customers with great respect – for their home, their time, and their money. Your neighbors love working with Offcut Interiors, and we can guarantee so will you! Check out what some of them have said about working with us!
Hunter was quick, precise and very professional.
I had some very damaged baseboards that neede to be replaced and they look amazing.
Would highly recommend!
Hunter completed a master bath remodel for us and we're were extremely happy with the results.
Great work, excellent price, outstanding communication and very professional!
I would strongly recommend Offcut for any similar project.
Type Of Upgrades And Materials
Some upgrades and features will make your bathroom feel luxurious, while others will have it working to your advantage, matching your changing needs.
But because too many choices can be overwhelming, our team will guide you through each step of the process until we find the perfect solutions for your bathroom remodeling project, without compromising any of its quality or aesthetics.
Let's look at the most common bathroom upgrades.
One of the most popular bathroom upgrades is adding a double vanity. This will not only add more storage space, but can also set the mood and style of your bathroom. Double vanities are a great way to increase the functionality of your bath while also adding a touch of luxury.
If you want a modern and minimalist bathroom, choose a vanity with slab doors and no hardware. If you're going for a warm and cozy feel, pick one made of hardwood with pulls. Throw in some other rustic details like hardwood features, and you'll get a mesmerizing look.
Semi-custom vanities are great if you're looking to get the maximum ROI, but if you care more about making yourself at home and completely comfortable, we'd recommend fully custom vanities.
Updating your old countertops is the perfect way to compliment a new vanity. They'll lay seamlessly with the new style and fit perfectly. Plus, you won't have to suffer from any ugly mismatches!
Undoubtedly, the best countertop material is quartz. It's resistant, durable, easy to maintain, and fairly affordable. Still, this is a manufactured material, so it'll cost more than granite, for example.
If you're looking for a soapstone, marble, or granite countertop, know that granite is the second-best countertop material.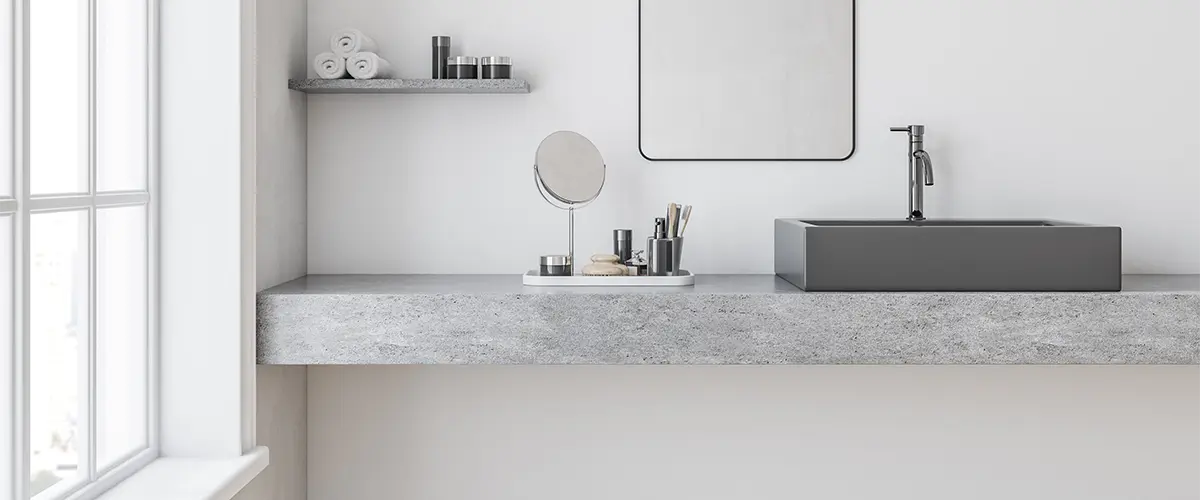 We often work on tub-to-shower conversions or replacing old jacuzzis for senior homeowners.
More and more are converting their tubs to walk-in glass models because they're easier to use, and take care of, and they take less space.
The next time you're in the market for a new shower, forget about those dated shower pans that make your bathroom look old-fashioned and consider getting a tile surround instead. A well-done tile surround can really brighten up any space.
If you enjoy hot baths frequently, a freestanding tub might be the ideal choice. With the help of a professional, these can be placed anywhere in your bathroom!
Older homes have hardwood floors in most rooms, including the bathroom. Needless to say, wood flooring in a room with so much humidity and water spills is never a great idea.
If you're hoping to install durable, good-looking tile flooring, consider using porcelain or ceramic tiles. While tile flooring can cost more, the value they bring is immeasurable.
If you're willing to spend more money on your floors, more expensive stones like marble slabs are a luxurious option that will give your bathroom a high-end look.
Luxury Vinyl Plank flooring offers an easy-to-maintain and affordable flooring alternative that captures the natural look of wood, but without all its downsides.
Epoxy flooring is yet another great option, as you can customize it to look like various other materials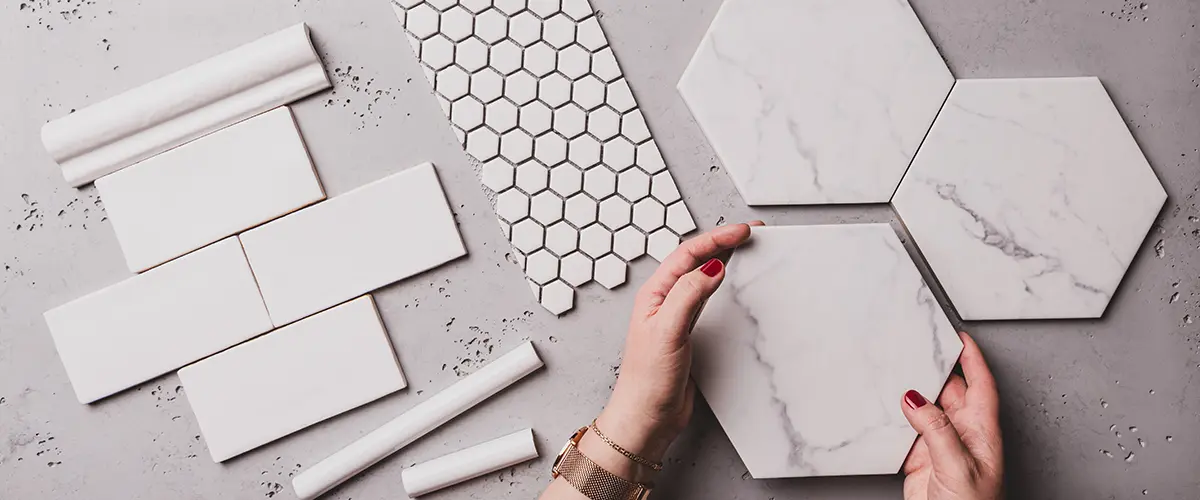 Upgrading your sinks and toilets is a great way to improve the look and feel of your bathroom at a very affordable price.
If you want your sink to become the focal point of your bath, choose a copper, marble, or granite bowl sink.
If you want to make your countertop appear continuous and create an uninterrupted flow in your bathroom, choose an undermount porcelain sink (or one made from the same material as your counter). Even though these are more expensive, they will definitely leave a great impression.
Pedestal sinks, wall-mounted sinks, and drop-in sinks are also common options, while for toilets, porcelain, ceramic, or acrylic remain the most common option.
Other bathroom upgrades include, but are not limited to:
Here's What Your New Bath Can Look Like
If you're looking to get an excellent bathroom, look no further! Our complete service offers what you need to achieve the perfect result. take a look at our gallery for some inspiration!
The Best Bathroom Remodeling Process In Sun City
We want to make remodeling an easy and joyful experience for you! Your comfort and well-being will always be our #1 priority during construction, so you'll have full control over your project.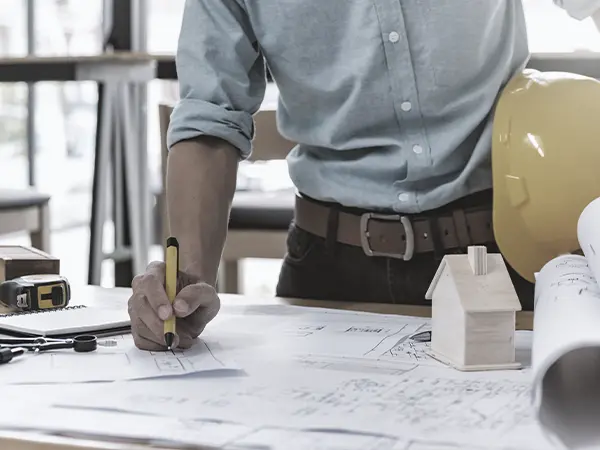 Let's figure out the best solution for your bath!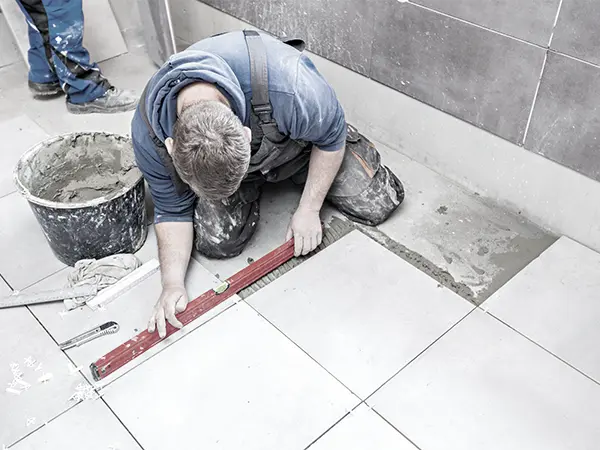 We start remodeling your space.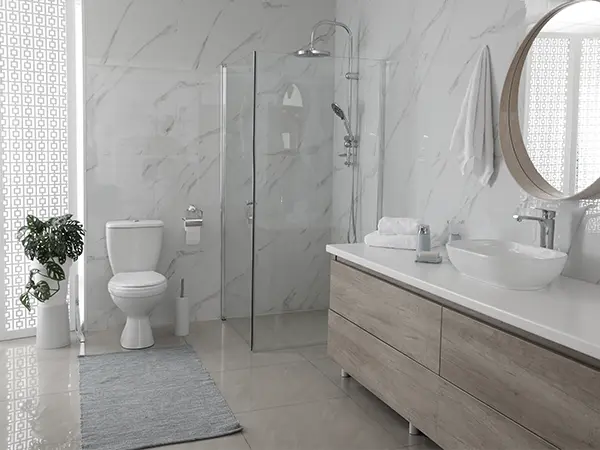 Your new bath is ready! Show it off to your friends!
Frequently Asked Questions
Several factors such as the scope of work, materials, features, and upgrades will determine how much a bathroom remodel costs.
We quote a base bathroom remodel at around $30k. It includes new vanities, new paint, a new toilet, and new flooring for a standard master bathroom.
An average bathroom remodel is about $47k, and it includes retiling the shower and floor, new paint, new vanities, a new toilet, and new fixtures for a standard master bathroom.
Our high-end bathroom remodels are around $80k and more. They include a full reconfiguration of your bathroom (can knock out walls if necessary), shower retiling, a free-standing tub, new flooring, new paint and trim, and other high-end upgrades.
We finish the average bathroom remodel in about one month. While tiling a new shower can take up to a week or less, an entire remodel will take around one month.
Depending on the materials you want and the features you need, your project's timeline can vary. We'll be honest with you about how long it will take after we talk to you in person. After our consultation, you'll have a realistic idea of when your new bathroom will be finished.
We work with only the best licensed and insured tradespeople in Sun City. With our expert knowledge of local building codes, you can be assured that you'll receive the highest quality workmanship possible.
I'm Hunter, the owner of Offcut Interiors. My aim is to give homeowners a better remodeling experience, a clearer process, and better communication with the workers to bring your bathroom to its full potential. The entire team will be right by your side with excellent customer support every step of the way!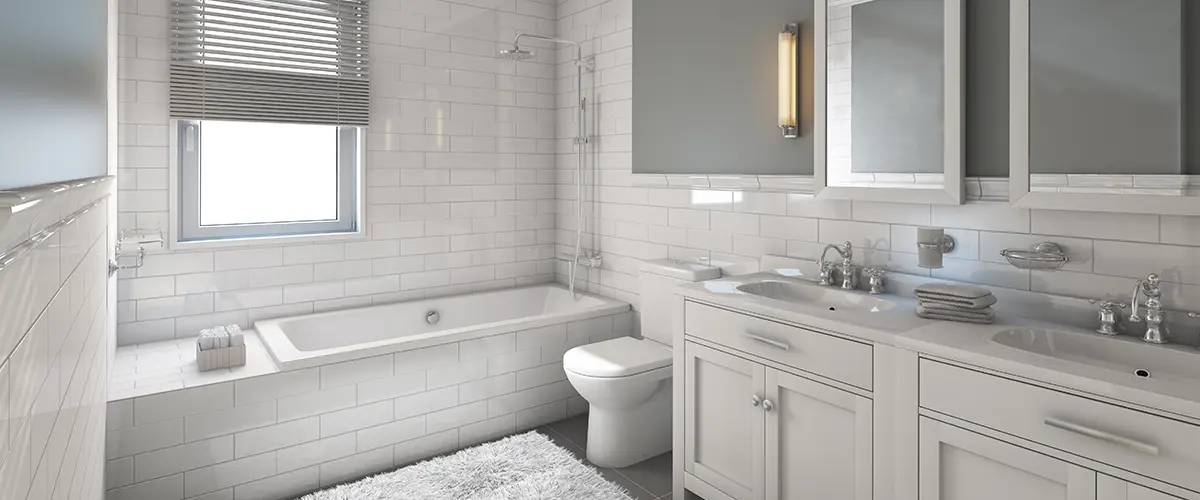 Get A Bathroom You Can Be Proud Of!
If you're looking for a bathroom remodel in Sun City, AZ, you're in the right place!
Offcut Interiors has experienced bathroom remodelers who are more than qualified to take on your project and deliver superb results that will have you beaming with pride. You'll love our straightforward process and our expert's involvement in your well-being and your project's success!
Working with us means your bathroom remodel in Sun City will turn out exactly the way you envisioned it, without the stress that these projects usually come with.
Get ready to receive:
Your New Bathroom Awaits You!