Remodel Your Bathroom And You'll Have Your Own Personal Spa Within A Couple Of Weeks
Bringing luxury and modern design to homeowners across King County, WA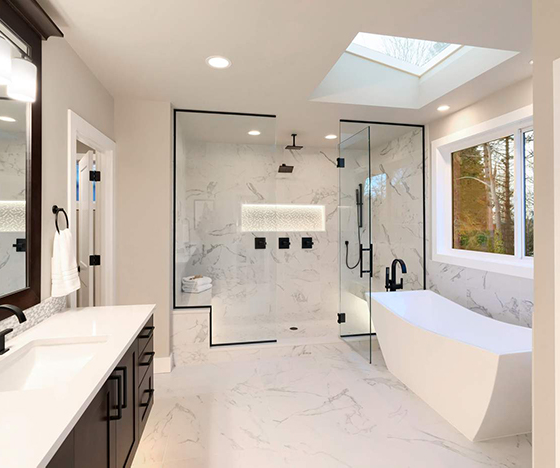 Remodel your bathroom to look like An oasis
Do you remember the last time you turned on your bathroom light and felt great about what you saw?
You may not. All you may see is a bathroom that belongs in a discount contractor's showroom- cramped, dark, and out-of-date.
You can remodel your bathroom to be more open, have a brighter color scheme, and have a look you truly love.
Whether it's before work or after a long day, you'll look forward to relaxing in your bathroom.
Let's make your bathroom a calming oasis in the whirlwind of your daily life.
Here are some of the most popular features homeowners are adding to their bathrooms:
A Bathroom Remodel Can Make It Finally Work For You​
How can you relax in your bathroom when it isn't the space you need it to be?
Your bathroom may be too small, the lighting may be weak, or there isn't enough storage space. Whatever it is, at the end of the day, it doesn't fit your needs.
You need a bathroom that helps you relax instead of adding to your stress and frustration.
Make your bathroom more open, brighter, and easier to work with. Take that clutter and finally have a place to store it.
Let's make your bathroom work for you instead of you working around it.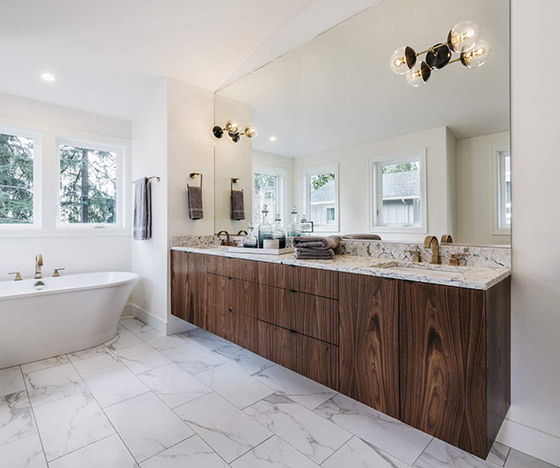 How Our Bathroom Remodeling Service Works
Below is a brief look at the bathroom remodeling process we offer to our clients in Redmond, WA, and the surrounding areas.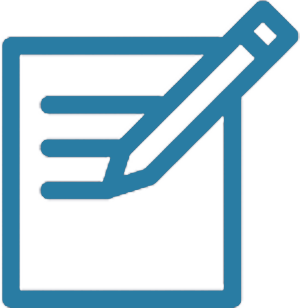 Fill Out Our Contact Form
Fill out our contact form or call us and tell us about your bathroom remodeling project. We'll get back to you as quickly as possible to have a phone consultation so we can start your project.

We Work Our Remodeling Magic
We'll work to get your ideal bathroom design together. Once the expectations are set and we know exactly what you want, you'll see us get to work on bringing your vision to life right in front of your eyes!

Have Fun In Your Incredible New Bathroom
Together, we'll go on a post-job walkthrough. This makes sure we meet or exceed all of the expectations set during the design phase. Then you can start making the most of your new bathroom!
Bathroom Remodeling Service Pricing
We understand what it's like to not have access to the most relaxing room in your home. That's why we work quickly to get it back to you while still meeting a high standard.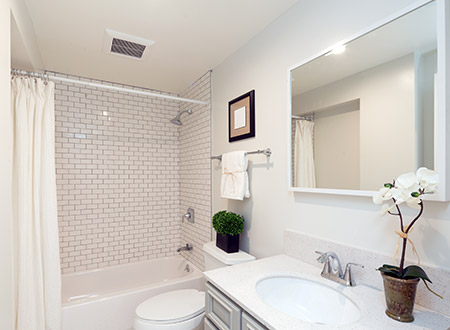 This can include giving your bathroom a fresh paint job, new stock vanities, and new light fixtures. Can also include replacing or refinishing your bathtub, and installing new fixtures, flooring, and wall tile.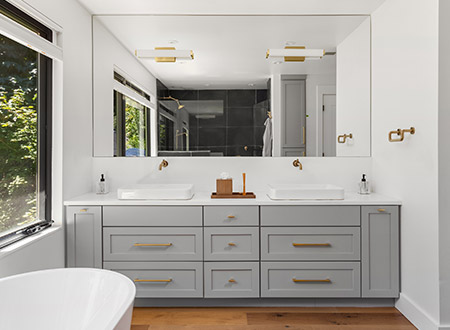 Average Bathroom Remodel*
This can include installing a new double-sink vanity with premium hardware, re-tiling the shower and giving it a semi-frameless glass enclosure. We can give you a new floor, a fresh paint job, new lighting, and new plumbing fixtures.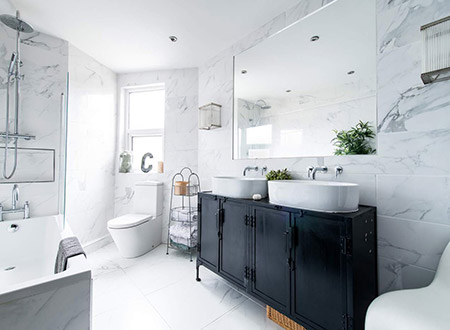 High-End Bathroom Remodel*
This can include installing a custom tile shower with a heavy, frameless glass enclosure. It can also include reconfiguring your lighting scheme with its own smart controls available, as well as premium vanity and tile selections and in-floor heat.
*Prices are averages and may change depending on the size of your bathroom and your choice of upgrades and materials. You'll receive an exact quote for your unique bathroom remodeling project after the in-house consultation.
Here's What Our Customers Say…
We want you to know what it's like to work with us. One of the best ways to do that is to show you reviews from our clients! Here are some sneak peeks at what it's like to partner with us to transform your home:
I had such a small job but he treated it like it was important – thank you!
Helpful, honest,  (didn't want extra payment I was trying to foist a handful of gift cards as a tip) , and professional.
He fixed a problem that I have been struggling with since last year; done in minutes.
Two thumbs up. Five stars.
Hunter completed a master bath remodel for us and we're were extremely happy with the results.
Great work, excellent price, outstanding communication and very professional!
I would strongly recommend Offcut for any similar project.
Hunter was quick, precise and very professional.
I had some very damaged baseboards that neede to be replaced and they look amazing.
Would highly recommend!
Make your bathroom the Relaxing place you Deserve to have