The shower vs. tub resale value still remains an important factor to consider when choosing the right upgrades for your remodel.
Do you prefer a shower's efficiency or the comfort a freestanding tub provides?
If you're trying to find the best option for your budget and get the highest resale value possible, there are some things you'll need to know.
We'll discuss the total cost of building a walk-in shower (along with tiling surround and water fixtures) and the total cost of a freestanding tub.
Let's begin.
Cost Of Building A Glass Walk-In Shower
Glass walk-in showers are what most people think of when they say "shower". This is a great upgrade that'll boost your efficiency in the mornings and help you get going faster.
So let's start by breaking down all the costs of building a shower.
Cost Of Glass Panels For A Shower
The cost of getting a new shower door can range from $500 – $1,500, with the average cost at about $1,000.
Besides, expect to pay $300 or more for labor costs and hardware.
Sure, you can get a curtain as the shower door, but only if you want to break the vibe of your new space. Shower curtains are outdated, and you'll need to replace them frequently. Not only that, but they're not always as efficient in holding back water as a door.
So, budget at least $1,000 for every glass panel you'll get (some walk-in showers have just one, while others will have two or more!)
Cost Of The Tile Surround
According to Angi, the average cost to tile a shower is around $900, which includes the tile, setting materials, and professional installation. However, the total cost can go up to $2,000 or more for more complex jobs.
Tile surround is great for several reasons.
The water fixtures are what make the shower truly functional and efficient. A detachable shower head with different spray options will make getting up in the morning as easy as 1-2-3.
A new shower faucet and showerhead can cost anywhere from $50 to $3,000. Of course, you don't need to get rain shower heads with all the bells and whistles. One that gets the job done will be more than enough, without breaking the bank.
Installing these won't be difficult or take long, but budget something for the installation as well.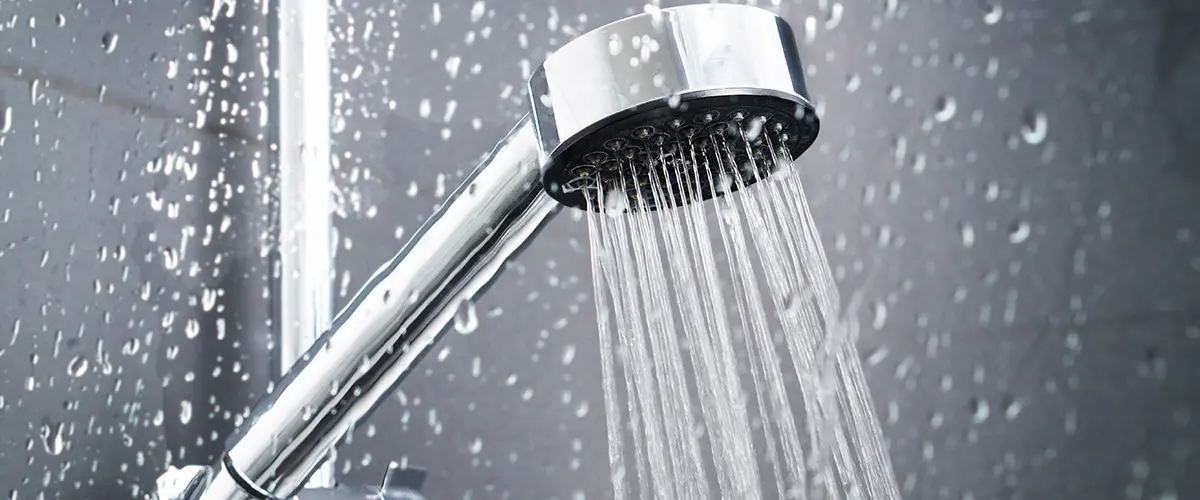 According to homeguide.com, the labor to install a new shower will range from $350 to $1,000, not including the materials. This will mean adding the frame for the shower and demolishing any wall that's in the way. A custom shower or custom shower stall will require the expertise of a professional, so there's no way around it.
Some contractors will have higher rates and deliver a better product, but not all! For that reason, we recommend you do your research when it comes to who you're hiring on your remodel.
Here at Offcut Interiors, we're honest and upfront about our prices, and we're giving you the highest-quality craftsmanship at the best price out there.
The ROI Of A Glass Walk-In Shower
So, after all these expenses, what's the ROI you can expect to get for a walk-in shower in 2023?
For a minor bathroom remodel, such as adding a walk-in shower, expect to get an ROI of 102%! That's a lot. To put it into perspective, for every $100 you spend, your home's resale value will increase by $102.
Even major bathroom remodels (where you're replacing more than just a feature) have an ROI of 93%!
So the shower resale value is definitely worth it, but how about a freestanding tub?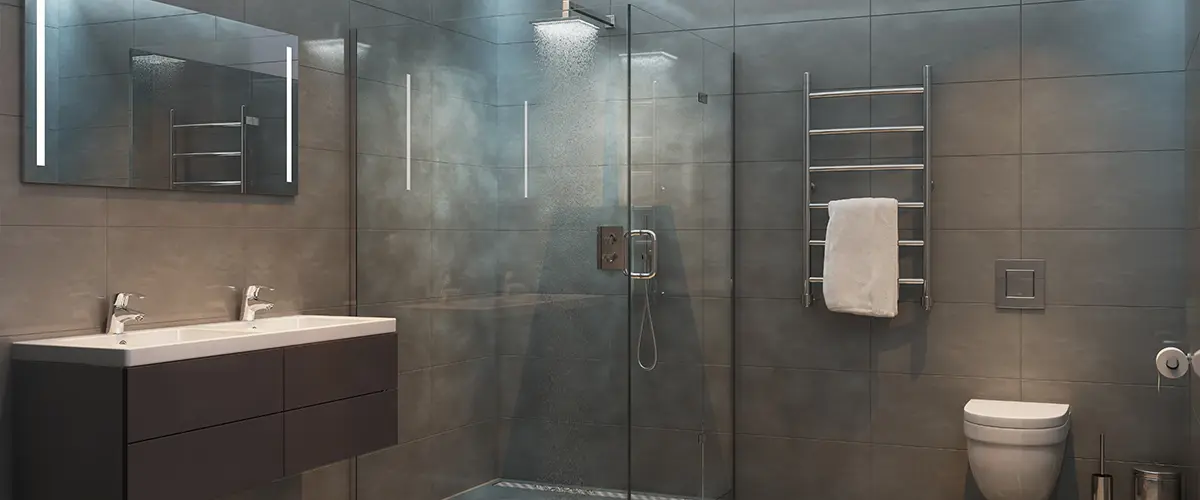 Cost Of Getting A Freestanding Tub
Freestanding tubs are all about comfort and creating a personal oasis for you and your loved ones. They're cozy and beautiful but difficult to get in if you're a senior. But imagine soaking in a hot bath after a long day.
Let's see all the costs associated with a new tub.
It takes a fair amount of work to remove the old tub, clean the area, prepare it, and install the new addition.
Generally, you should budget around $800 for the prep and installation of the new tub, and around $500 if you want the old tub removed and disposed of.
Bathtubs don't need showerheads (unless it's a shower-tub-combo), so you'll save some money there. But you'll still need a faucet.
Keep in mind that freestanding tubs are all about comfort and creating a luxurious space. As a result, you'd rather not have the cheapest features. Look for something upscale that complements the rest of the space.
For water fixtures, you'll want to budget at least $500.
Here's where things get spicy. Freestanding tubs can cost a lot!
Cool freestanding tubs (that are worth having in your bathroom) cost between $1,000 and $3,000. We've seen tubs that cost a lot more, but no one wants to break the bank for a bathtub.
Again, it needs to be luxurious and look expensive, as it's supposed to be a focal point in your bath. This is what it's all about – everything in your bath needs to complement the tub.
The ROI Of A Freestanding Tub
Adding a freestanding soaking tub will turn your bathroom into a magnificent space that can really wow your potential buyers.
US homeowners can gain back up to 60% of their costs by remodeling a bathroom with an updated tub. Luxury homebuyers expect a bathing unit in the master suite, while parents of young ones prefer one across the whole abode.
The only addition you'll want to avoid is a whirlpool tub. These are dated and won't do much good in a bathroom. We recommend installing grab bars for seniors as well.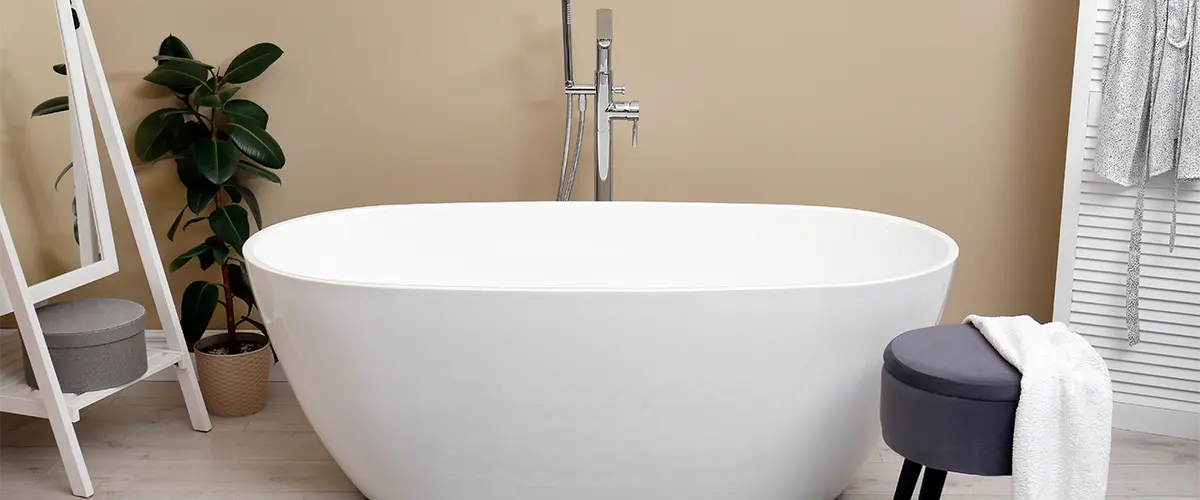 One thing's for sure, if you want the most ROI on your remodel and want to sell the place for as much money as possible, ALL buyers will be more attracted to a home with both a tub and a walk-in shower. At least one tub is recommended in the master bathroom as well.
The shower vs tub resale value in 2023 will go on, as homeowners are (sometimes) limited by money or the space in their homes.
At Offcut Interiors, we're giving you some of the best prices you'll find in Maricopa County, AZ. We're honest and upfront about everything that goes into your project, and we'll find the best solutions within your budget to give you the space you've been dreaming of.
Give us a ring at (480) 999-6134 or request a free quote and let's get you the best upgrade your bathroom will ever see!