The Best Bathroom Remodeling In Phoenix, AZ
Ready to work with the best bathroom remodeler on your project?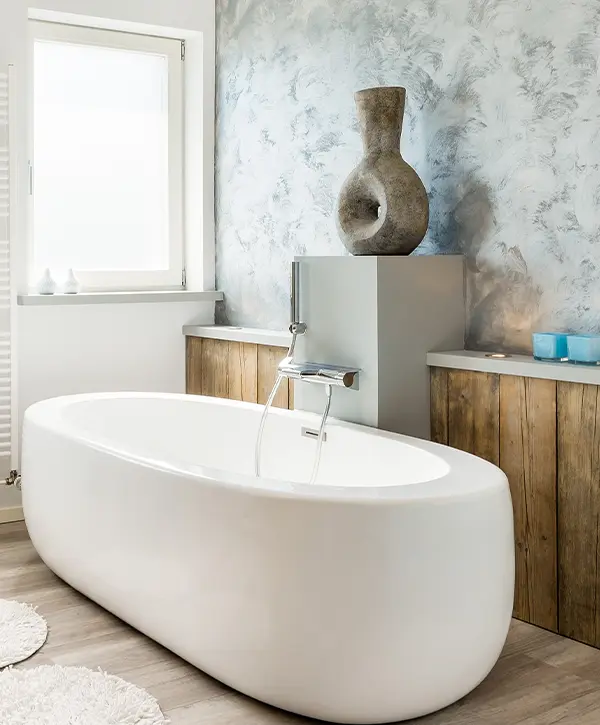 Are you considering a bathroom remodeling in Phoenix, Arizona? Then we might be the perfect solution for your needs!
At Offcut Interiors, our experts are dedicated to remodeling your bathrooms and catering to all of your needs and desires. We provide personalized service that puts you at the center of everything we do – so your new bathroom will be all about YOU!
With us, you'll enjoy a comprehensive and pleasant experience from start to finish. So if you're tired of the stress and anxieties of remodeling, get us on the job and enjoy the seamless process that concludes with a spectacular outcome.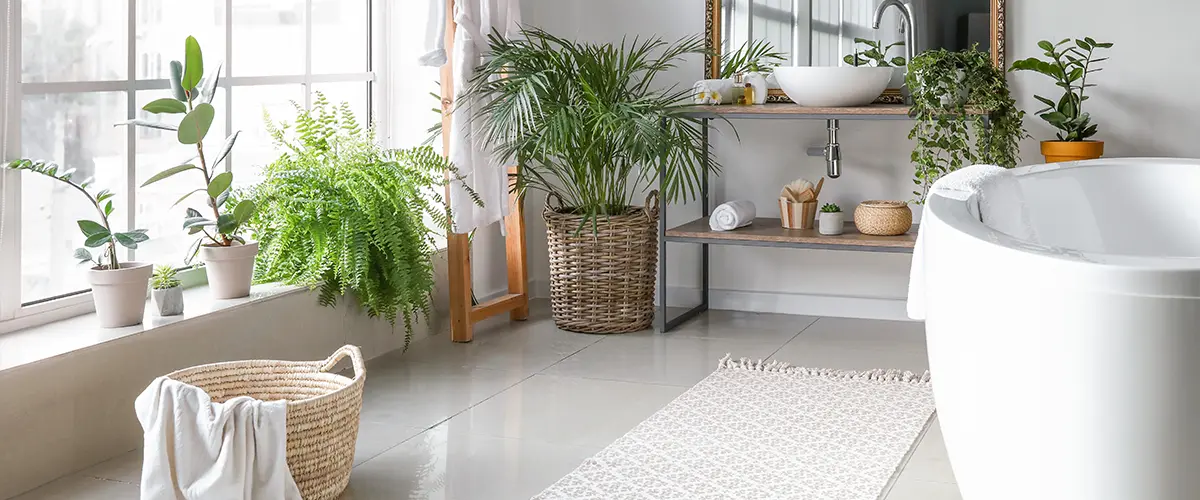 A Remodeling Service That Goes All-In For Your Success
Our dynamic team of professionals is passionate about exceeding expectations for all projects, regardless of size or scope. We're devoted to transforming your bathroom into the beautiful and unique space you've always dreamed of – with an added touch that will make it unforgettable!
The Only Bathroom Remodeler You'll Ever Want In Your Home
Home improvement projects can cause immense stress and tension, but not when working with a first-rate remodeler. Offcut Interiors has been doing bathroom remodeling in Phoenix, AZ, since day one, and they know the ins and outs of the industry like no one else around here.
Work with a true professional that values your home and is just as committed to your project as you are. Let our tried-and-true process guarantee you the joy of watching your dream bathroom come alive.
Your needs and preferences become the cornerstone of your new bathroom, so its functionality will reach peak levels and its beauty will remain unspoiled.
Make sure to check out our bathroom remodeling offer! Work with a professional and rest assured you'll be making one of the best investments for your home.
Homeowners Love Their Bathroom Remodel In Phoenix, AZ
Invest in stellar bathroom remodeling in Phoenix and work with an experienced team that guarantees satisfaction and peace of mind. Phoenix's homeowners have already worked with us, and they are thrilled with their results. Read what they say about us!
Hunter was quick, precise and very professional.
I had some very damaged baseboards that neede to be replaced and they look amazing.
Would highly recommend!
Hunter completed a master bath remodel for us and we're were extremely happy with the results.
Great work, excellent price, outstanding communication and very professional!
I would strongly recommend Offcut for any similar project.
Types Of Bathroom Upgrades
With the vast array of options, materials and additional features available for your bathroom remodel in Phoenix, AZ can be overwhelming. Let us help you make wise decisions cost-effectively so that you do not have to bear this stress alone. We are here to guide you through the selection process with ease!
To start, take your bathroom design to the next level with a double vanity. Not only it provides extra storage space and a beautiful style upgrade, but it can also become the focal point in your new bath.
Turn your bathroom into a contemporary haven with slab doors for an MDF vanity with no visible pulls and knobs, or create a traditional space with a classic hardwood vanity outfitted with black or gold handles.
If you're seeking an economical solution, semi-custom vanities are perfect for you. However, if money is no object and creating your own distinct space is paramount, customizing your vanity entirely may be the better option.
Revitalize any monotonous countertop with quartz to create a unified, contemporary look that's both pleasing and practical. Quartz is the perfect choice due to its resilience, strength, easy upkeep, and reasonable cost.
If you're looking to create a bathroom with natural stone, granite may be the right choice for you. Not only is it more affordable than manufactured materials, but there are numerous stunning slabs available if you take your time to look.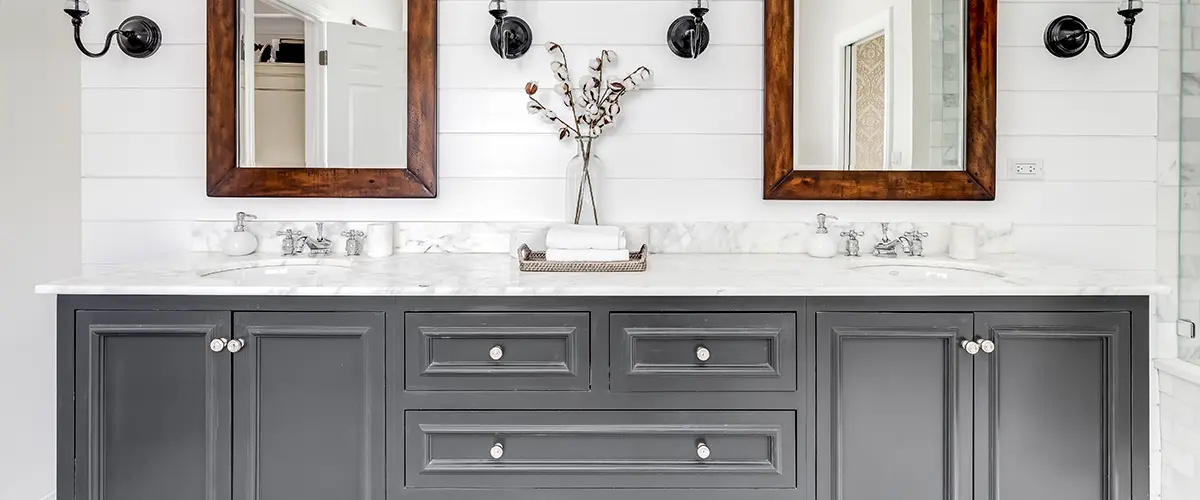 Nowadays, many seniors are trading in their aging tubs for walk-in glass showers as they provide effortless convenience and call for minimal upkeep. Not only do Jacuzzis and bathtubs become a tripping hazard, but they also become increasingly inefficient with age.
Homeowners throughout Phoenix and the surrounding suburbs are increasingly choosing to upgrade their bathrooms with stylish tiled walk-in showers, adorned by either a full glass enclosure or sleek, modern door.
Not only do these luxurious additions give your bath an elegant flair that is sure to impress visitors – they also require minimal effort for maintenance, plus help you make the most of limited space. If the budget is not a concern, adding a walk-in shower and a freestanding tub is even better!
Hardwood floors might be pleasing to the eye, but they are not suitable for bathrooms that experience high levels of humidity and regular water spills. In Phoenix, many homeowners want to change their flooring as soon as they move into an older home.
When you want to make a lasting impression, porcelain or ceramic tiles are the perfect choice for your flooring needs. Despite requiring an initial investment that is higher than other materials, the value they bring cannot be matched.
If you desire to take your bathroom look up a notch and are willing to invest the money, marble slabs offer an opulent option that will bring extravagance and sophistication. However, be prepared for the hefty price tag that comes along with it.
If you're on a tight budget, LVP flooring is the best way forward. These are easy to install, easy to maintain, they're durable and resistant, and mimick the natural grain of wood or stone.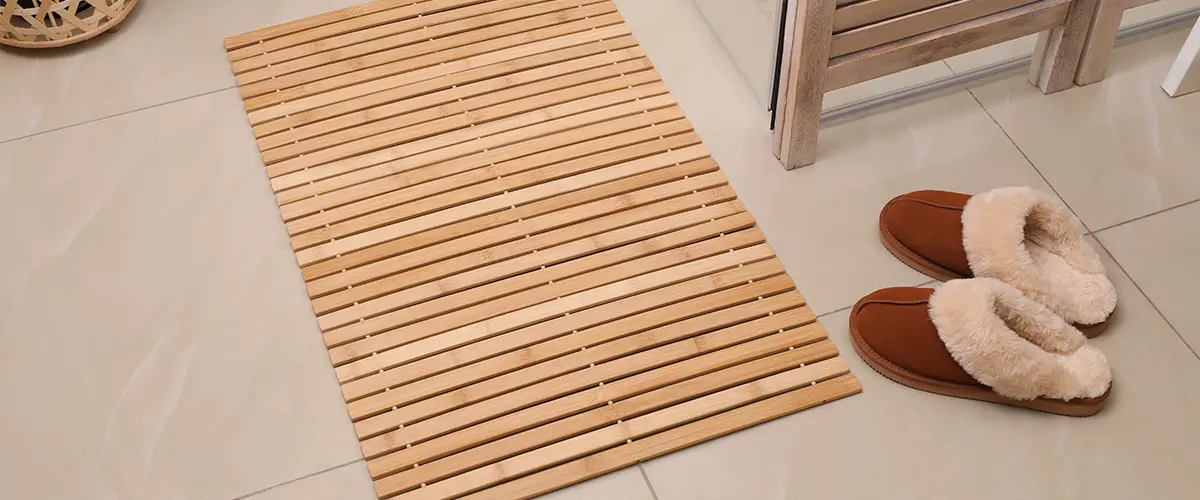 Your dream master bathroom will also need upgraded bath essentials. Your sink and toilet need to look good and be fully functional.
You can opt for a focal point sink or a toilet with all sorts of gadgets if that's in your budget, but if it's not, a simple bowl sink and a porcelain toilet or bidet will do just fine.
Toilets are commonly made from ceramics, porcelain, or acrylic. However, don't forget to add some new technology for even better functions. Small details like this make the most significant difference in performance.
Other bathroom upgrades include, but are not limited to:
Here's What Your New Bath Can Look Like
If you're looking to get an excellent bathroom, look no further! Our complete service offers what you need to achieve the perfect result. take a look at our gallery for some inspiration!
The Easiest Bathroom Remodel In Phoenix, AZ
At our company, we are devoted to providing you with an effortless and enjoyable remodeling experience. We always prioritize your fulfillment throughout the building process, ensuring that you remain in control of every stage!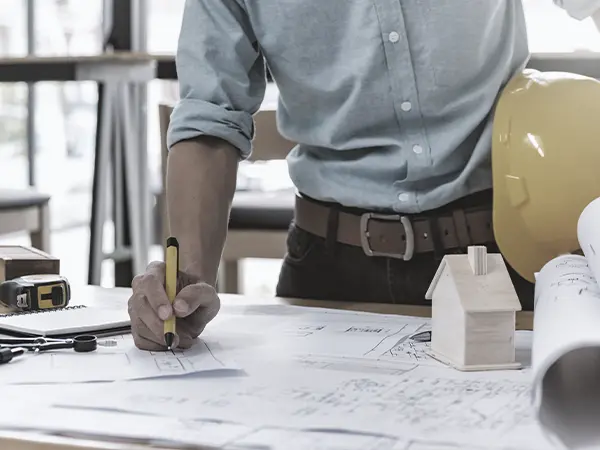 Let's figure out the best solution for your bath!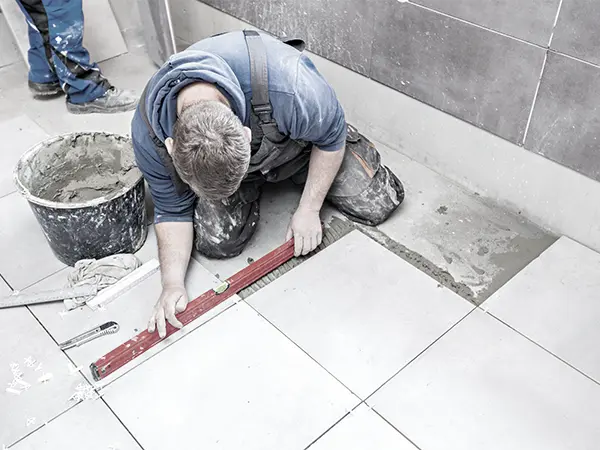 We start remodeling your space.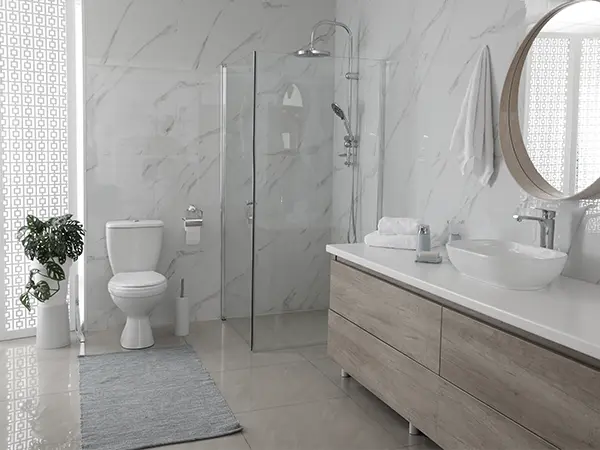 Your new bath is ready! Show it off to your friends!
Frequently Asked Questions
Our team can typically finish a standard bathroom remodel in approximately one month. Every project is different, of course, so the timeline may vary; however, tiling the shower usually takes no more than seven days. We will provide you with an exact timeline once we have conducted our initial consultation.
The scope of work, materials, features, and upgrades all determine how much bathroom remodeling in Phoenix costs.
Our bathroom remodels are priced around $40k and offer a full transformation with great quality features. For those looking for something more luxurious, we also have high-end options that can reach over $70k featuring the finest materials available. No matter the budget you're working with, we'll bring some of the most cost-effective solutions for your particular needs.
With Offcut Interiors, you'll receive the best licensed and insured tradespeople in Phoenix and more of Maricopa County. With our extensive understanding of local building codes and regulations, you can be certain that your project will receive superior and reliable workmanship, backed up by an advantageous warranty. 
The owner of Offcut Interiors, Hunter, is personally involved in every step of the process and supervises each milestone of the job.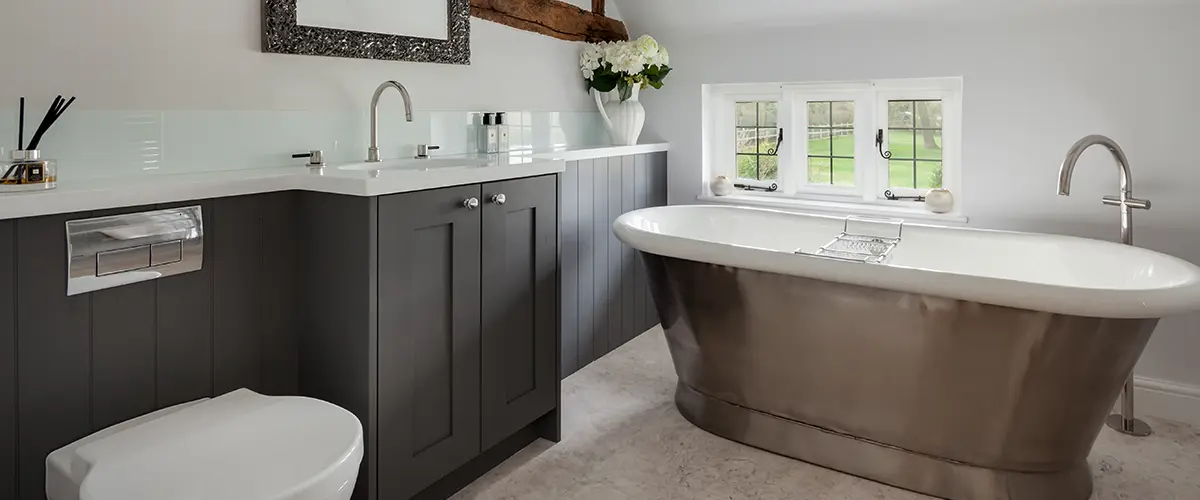 Get Offcut Interiors Pros On Your Bathroom Remodeling In Phoenix!
If you're looking for a bathroom remodel in Phoenix, AZ, you're in the right place!
Offcut Interiors offers the best bathroom remodelers, making certain that your project is completed with excellence and you'll be proud of the result.
A swift process and the commitment of our experts to your satisfaction ensure you'll get a spectacular bathroom remodel that makes your day-to-day life so much easier and better.
Partnering with us guarantees that your bathroom remodeling in Phoenix, AZ, will come to life precisely as you imagined, but without all the anguish so often associated with these kinds of projects.
Get ready to receive:
Your New Bathroom Awaits You!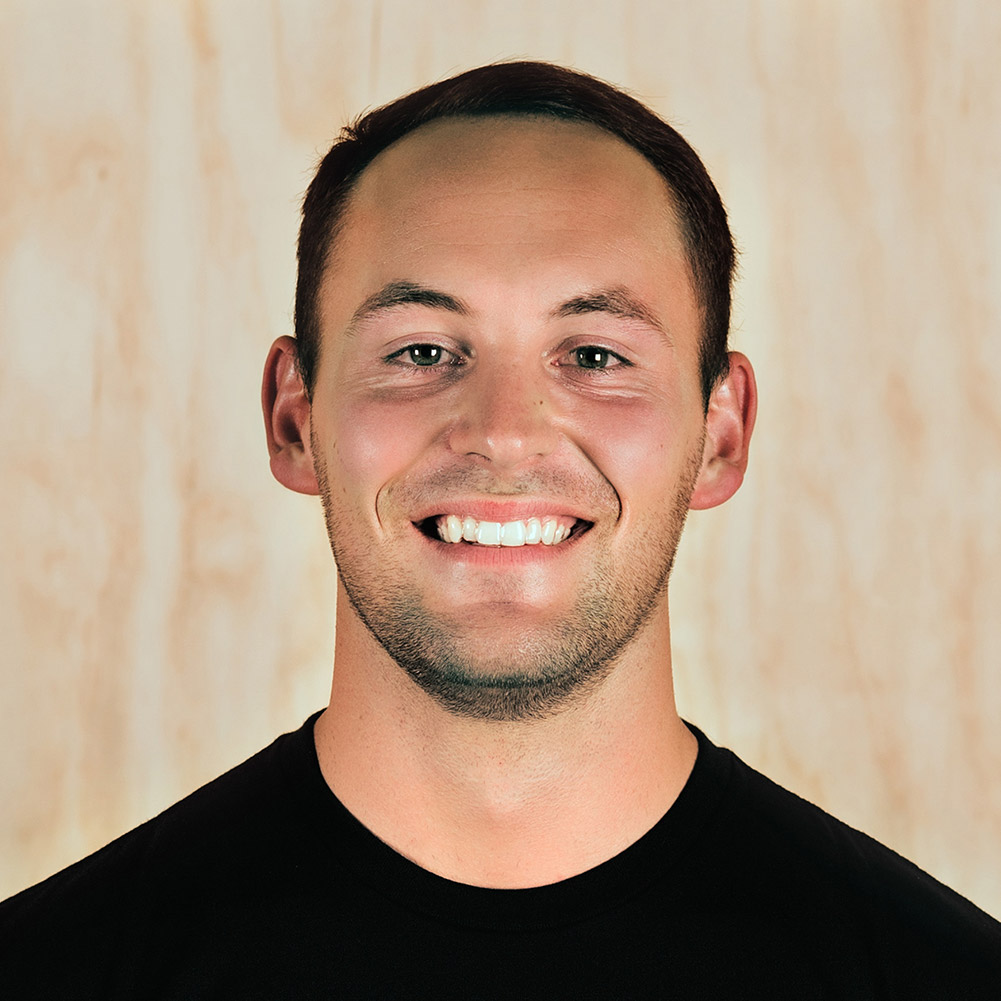 Start your project with the only pros in town! Request a quote for your bathroom remodeling in Phoenix, AZ, or call us at (480) 999-6134 and talk directly to Hunter, the owner of Offcut Interiors!