The Best Bathroom Remodeling In Peoria, AZ
Ready to start your bath remodel in Peoria?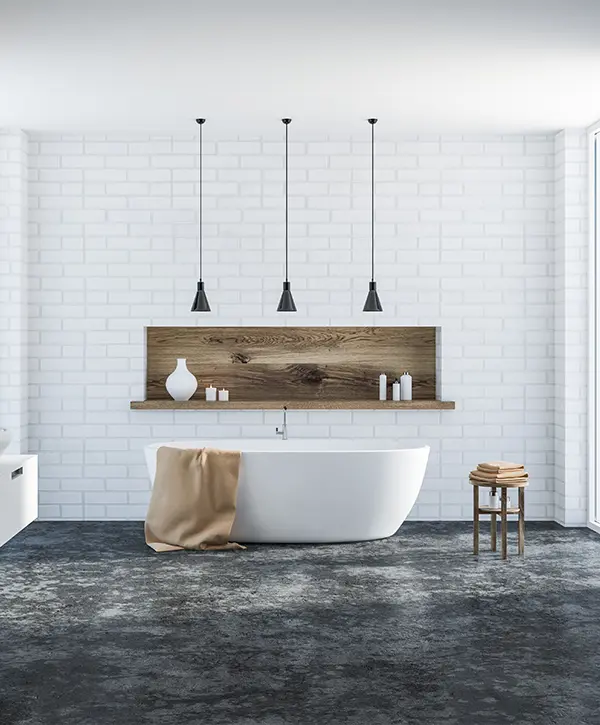 Offcut Interiors is a company that specializes in remodeling bathrooms. We're headquartered in Peoria, but we serve the entire Arizona Metro Area with the same devotion and passion!
We've been offering high-quality remodels in your area for a while now, but our work in construction and remodeling extends decades back in time.
We're professionals focused on understanding your underlying needs and wants in order to offer you a remodel that not only meets your expectations but also exceeds them.
We want to raise the remodeling industry standards, and we're ready to go the extra mile to make sure it happens.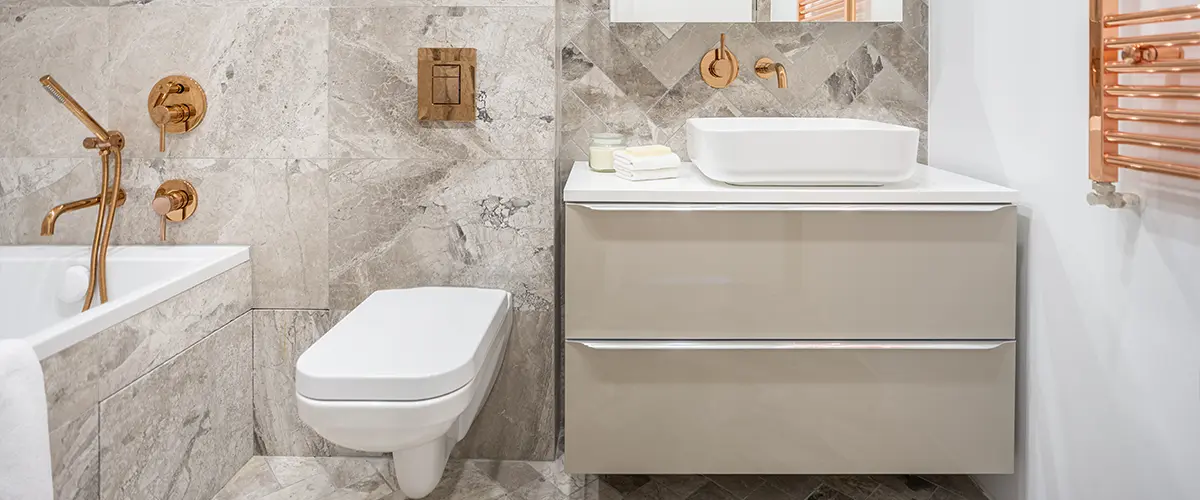 Get A New Bathroom With Extra Benefits
Offcut Interiors strives to provide our clients with the best possible experience. We deliver quality craftsmanship and outstanding customer service. In us, you'll find a partner who cares about your vision and will work tirelessly to bring it to life.
Enjoy A Bathroom Tailored To Your Needs
You want your bathroom to be 100% functional and efficient at all times. Naturally, it needs to provide ease of use and comfort, but it also needs to look great and feel yours.
You'll be guaranteed to love your new bathroom space. We use 3D design software so you can see a realistic image of the room before any money is spent on materials. This way, you won't have to worry about making any sacrifices in terms of beauty for the sake of efficiency.
At Offcut Interiors, we pride ourselves in excellent bathroom design and its perfect execution. We're all detailed-oriented, so we'll make sure every aspect of your envisioned bath will reflect in the end product.
Regardless of the scope of your project, we'll turn your vision into reality and make sure you're happy with how everything turned out!
Homeowners In Peoria Love Their New Bathrooms
We're proud to have helped hundreds of homeowners make their dream a reality. With us, you'll get a new bathroom tailored to your changing needs, just like your neighbors did.
Hunter was quick, precise and very professional.
I had some very damaged baseboards that neede to be replaced and they look amazing.
Would highly recommend!
Hunter completed a master bath remodel for us and we're were extremely happy with the results.
Great work, excellent price, outstanding communication and very professional!
I would strongly recommend Offcut for any similar project.
Type Of Upgrades And Materials
The list of upgrades and materials available for your bathroom remodel is endless. At our in-house consultation, we'll guide you through every option to ensure you'll know what you're getting.
Let's see what the most common upgrades are for a bathroom remodel.
Vanities and cabinets are common upgrades that many of our customers go for.
Plywood is the best material option you can go for your cabinet boxes. For the faces and doors of your cabinetry, we recommend medium-density fiberboards for their easy-to-refinish surface.
When it comes to the type of cabinetry, the licensed carpenters of Offcut Interiors can create the perfect vanity for your new bathroom. Semi-custom cabinets are not just a viable option, but the best one if you're looking to get as much ROI back as possible.
Stock cabinets are the most affordable option on the market, and they're great if you're working with a tight budget.
Changing a vanity will often require changing your countertop too.
At Offcut Interiors, we recommend quartz counters, as this material is durable, resistant to stains, scratches, or chips, and fairly easy to maintain.
Because it's a manufactured material, quartz has all the benefits of natural stones, without many of their downsides. The highest quality quartz will be slabs that have no visible veins, so they'll create a smooth and seamless counter space.
Granite, stainless steel, and marble are also good countertop actions. Butcher blocks are great for a small portion of the counter that'll act like a cutting board. However, try to avoid laminate as much as you can, as this material is terrible in a room that sees a lot of spills.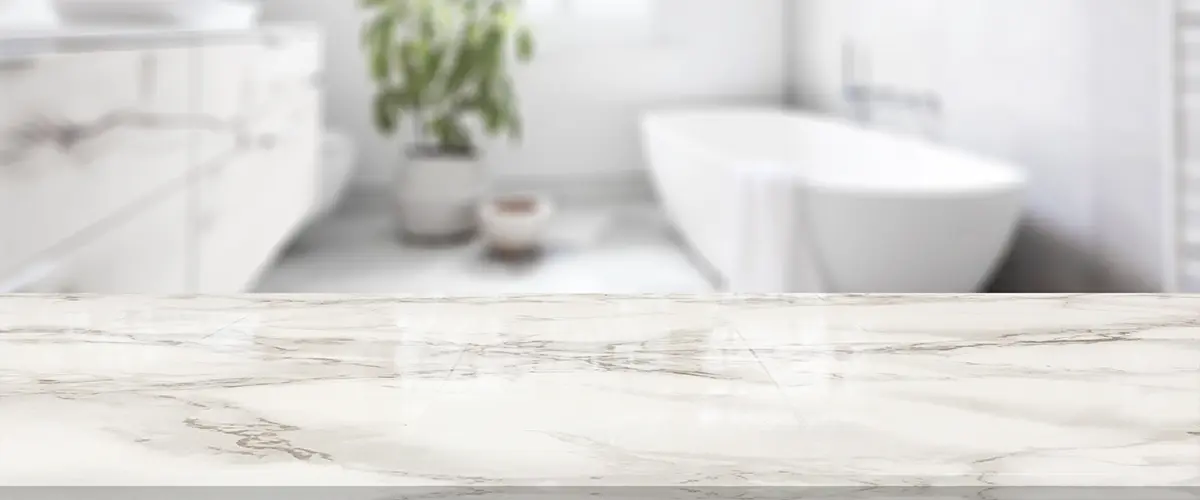 In Peoria, many homeowners are focusing on tub-to-shower conversions for their bathroom remodeling projects.
Transforming a fiberglass pan shower into a curbless entry shower with a matching tile floor and concealed drains ensures better functionality and aesthetics. For comfort, freestanding soaking tubs are gaining ground, allowing real relaxation and increasing floor space.
If you were thinking of jacuzzis and step-down tubs, know that these decrease in popularity because they create entry and exit hazards as we age.
Flooring is where a lot of bathroom issues start. Poor plumbing systems, drainage, or leaks will cause your floor to rot or develop mold or unpleasant smells.
Tile remains an excellent option for flooring, and luxury vinyl tile (LVT) is slowly gaining ground. Another common flooring option is luxury vinyl planks (LVP) due to their easy installation and low maintenance.
Hardwood floors are not the best choice for bathrooms because the room has a lot of water spills and moisture. Wood can absorb this water and will rot over time.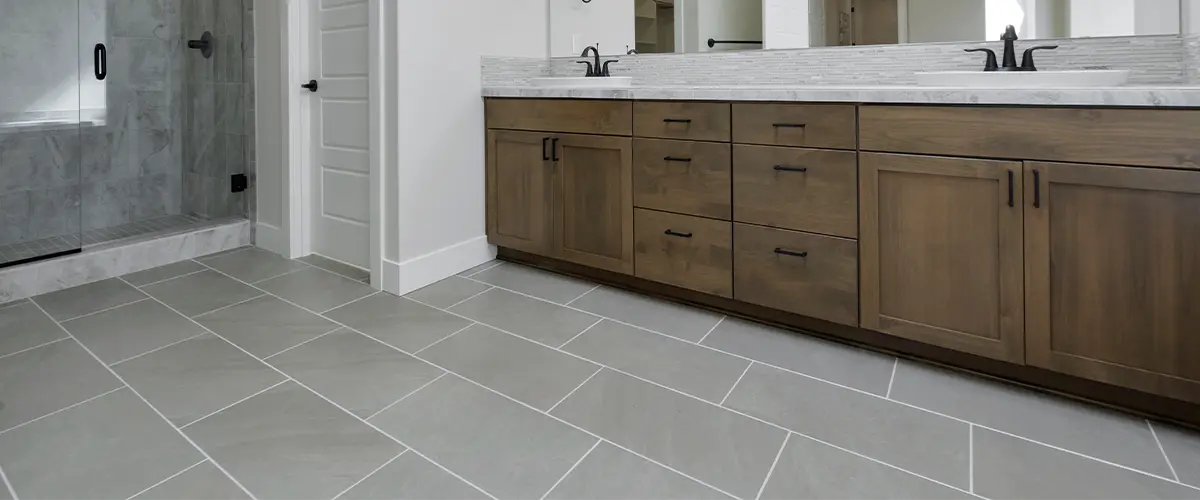 Upgrading your sinks and toilets is a great way to improve the look and feel of your bathroom at a very affordable price.
If you want your sink to become the focal point of your bath, choose a copper, marble, or granite bowl sink.
If you want to make your countertop appear continuous and create an uninterrupted flow in your bathroom, choose an undermount porcelain sink (or one made from the same material as your counter). Even though these are more expensive, they will definitely leave a great impression.
Pedestal sinks, wall-mounted sinks, and drop-in sinks are also common options, while for toilets, porcelain, ceramic, or acrylic remain the most common option.
Here's What Your New Bath Can Look Like
If you're looking to get an excellent bathroom, look no further! Our complete service offers what you need to achieve the perfect result. take a look at our gallery for some inspiration!
Your Bathroom Remodel - Now Done 10x Easier
With us, your bathroom remodel will be fast, predictable, and effortless! We designed this process with your comfort and well-being in mind!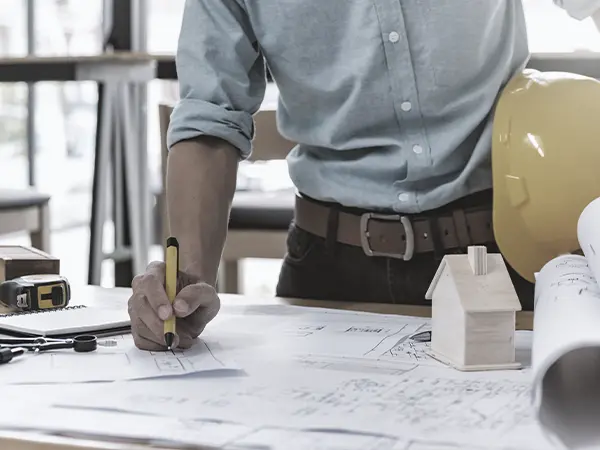 Let's discuss your upcoming project and come up with a plan.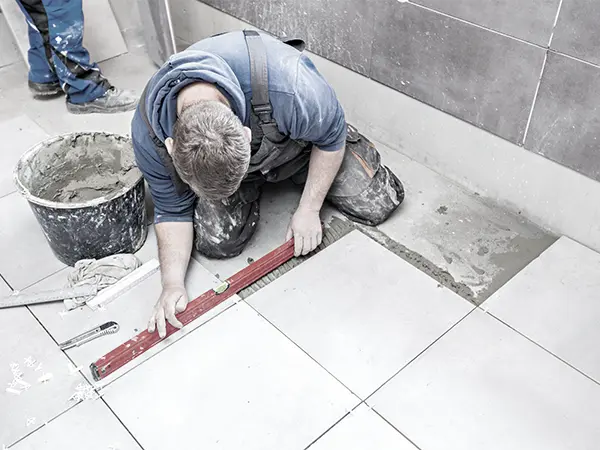 We'll build your new bathroom according to your needs.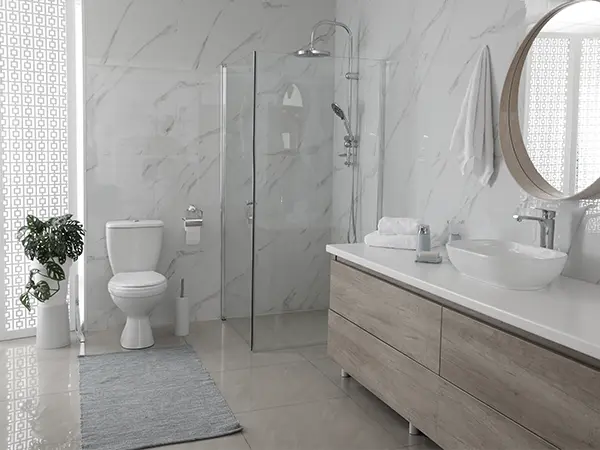 Your bathroom is ready! Enjoy it!
Frequently Asked Questions
Keep in mind that your choices will largely affect the total cost of the project. For example, a freestanding tub is more expensive than a regular one, and tile and flooring selection also play significant roles in pricing.
If you plan to change the layout of your bathroom, be aware that doing so will likely increase the cost of your remodel as it will involve moving around the plumbing.
The average cost for a bathroom remodel in Peoria is $20k – $30k.
Depending on the work needed to be done in your bathroom, a permit may be required from the city. Here at Offcut Interiors, we take care of all the paperwork and requirements associated with permits, so that you can sit back and relax during your project.
We can usually complete most bathroom remodels within 3 to 4 weeks, but the size of your bathroom and the extent of the remodel are important time indicators.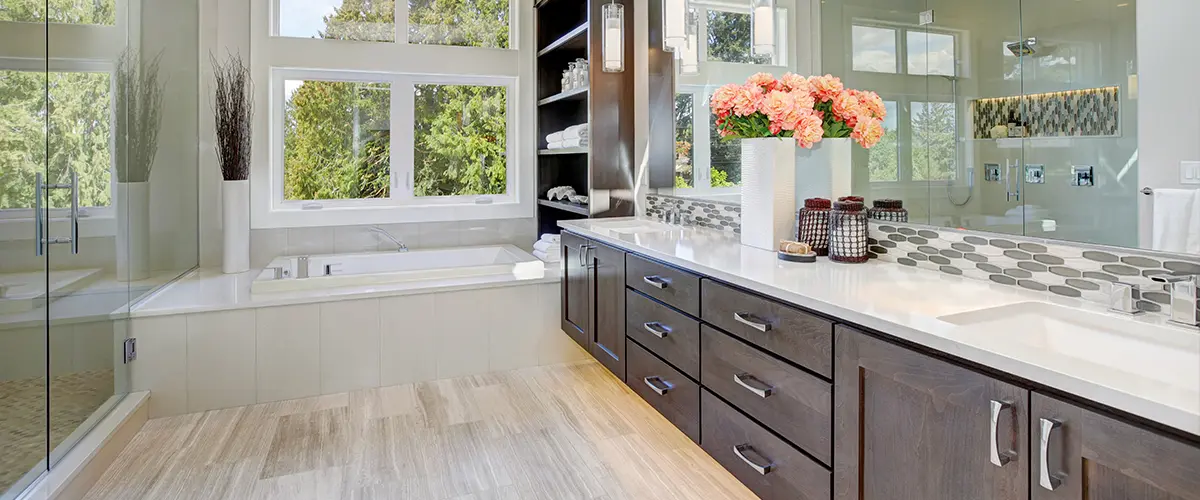 Let Offcut Interiors Transform Your Bath In Peoria!
Because we know remodeling projects can get stressful, our goal is to make your journey with us an effortless and pleasant experience.
At Offcut Interiors, our core values revolve around you, so you can be sure you'll get the highest quality the industry has to offer!
We have the blueprint of a successful bathroom remodel, and we're ready to use it to give you your well-deserved bathroom upgrade.
You'll get:
Level-Up The Comfort And Functionality Of Your Bathroom With Offcut Interiors!