If you're looking to breath some fresh air into your kitchen space with a stunning cabinet transformation, you've come to the right place.
Cabinet refinishing offers an affordable alternative to improve the style and appearance of your kitchen, without spending too much money on new cabinets.
But what is the cabinet refinishing cost in 2023?
You're about to find out!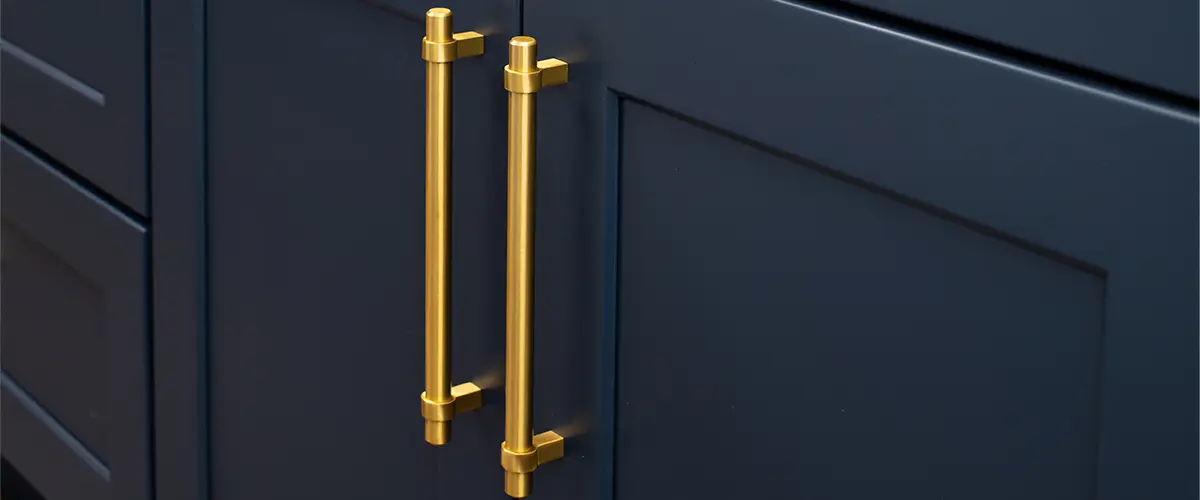 Factors Affecting Cabinet Refinishing Cost
The cost of refinishing cabinets in 2023 will be affected by different factors such as the cabinet material, average kitchen top size, and complexity of work.
Cabinet material plays a significant role in determining the overall cost of cabinet refinishing. Solid wood cabinets, for example, are easier to refinish and stain than other materials like veneer or laminate.
This is because solid wood can be sanded down smoothly without causing damage, allowing for efficient preparation prior to staining or painting.
Homeowners with solid wood cabinets can expect lower labor costs for refinishing compared to those with veneer or laminate cabinets due to the difference in prep work involved.
It's important to note that some materials may also impact how well paint or stain adheres. Hardwood cabinets take stain much better than paint, while MDF cabinets take paint a lot better than stain.
A crucial factor affecting cabinet refinishing cost is the kitchen size.
It's essential to understand that larger kitchens typically house more cabinets, which translates into higher labor and material expenses.
In contrast, smaller kitchens often have fewer cabinets requiring refinishing work, thus reducing overall costs substantially.
To effectively estimate your cabinet refinishing cost, count how many cabinets (or linear feet of cabinetry) you have and multiply the number with the refinishing cost per linear foot.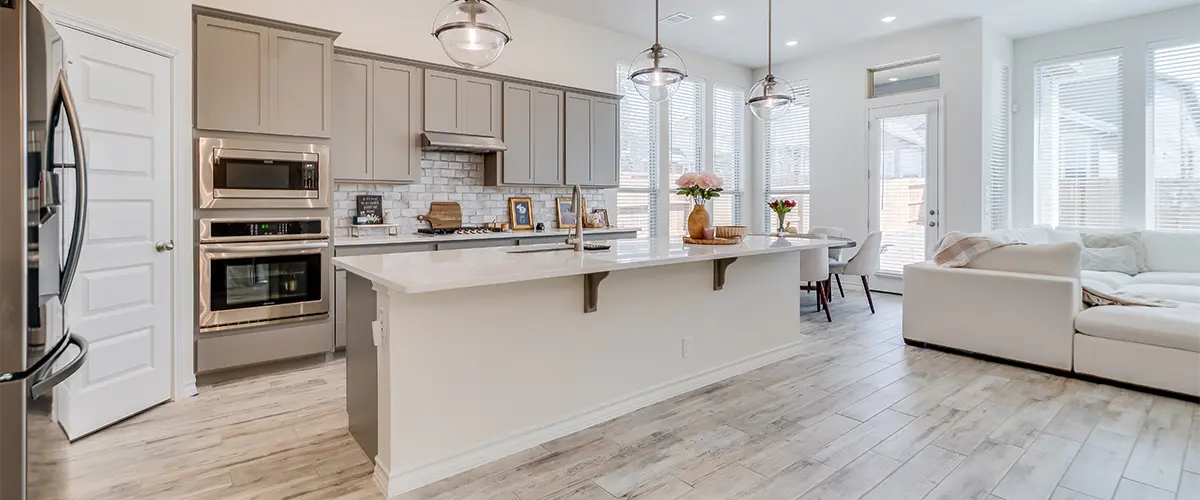 The complexity of a cabinet refinishing project greatly impacts the overall cost and duration. Homeowners should be aware that different cabinet materials, designs, and conditions can require varying levels of effort, skill, and resources for successful refurbishment.
For example, wood cabinets demand more intensive preparation compared to other materials such as laminate or wood veneer cabinets.
Customizations also play a significant role in determining the complexity – and thus the cost – of your cabinet restoration project. Cabinetry with intricate detailing, like raised or arch panels, will require specialized techniques and more time to refinish.
Furthermore, incorporating additional home improvement projects like under-cabinet lighting can add between $230 and $300 per light to your overall budget.
Average Cost Of Cabinet Refinishing In 2023
In 2023, the national average cost of cabinet refinishing is projected to range from $1,800 to $6,000, with an average cost of $3,500.
In 2023, the national average cost to refinish cabinets is $2,975, with prices varying based on factors such as cabinet finish type, location, and labor costs.
Keep in mind that prices can differ from the national average based on factors such as the number and size of cabinets, cabinet material, project complexity, and local labor prices.
Additionally, labor and material costs in densely populated urban areas are typically more expensive than in more rural locations. It's important to get multiple quotes from professional cabinet refinishers to ensure you're getting the best value for your project.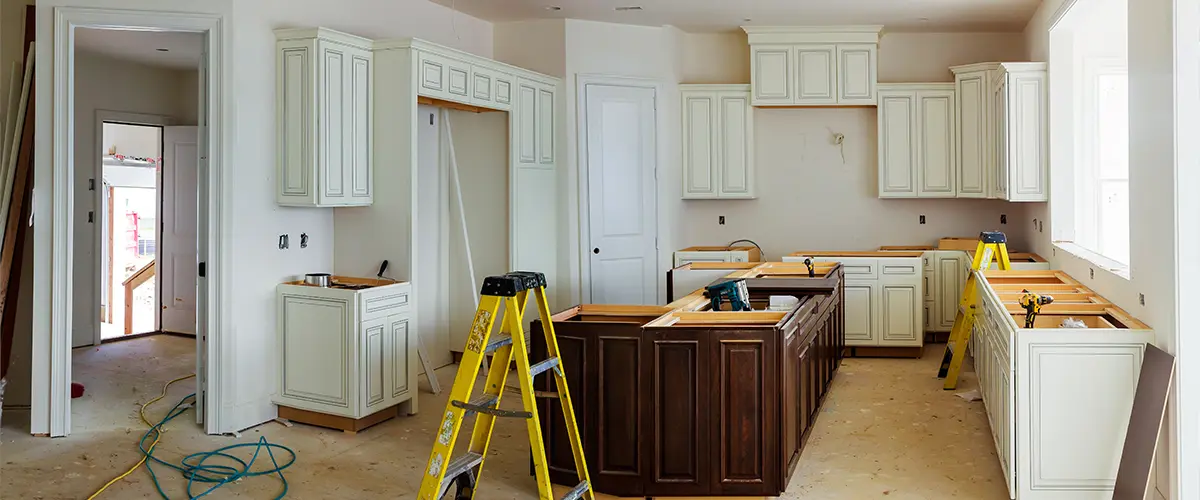 Cabinet refinishing costs can vary significantly depending on the materials and finishes chosen, and the cost per square foot is an important consideration for homeowners.
| Refinishing Type | Cost Per Square Foot |
| --- | --- |
| Painting | $4 - $10 |
| Varnishing | $5 - $15 |
| Shellacking | $6 - $18 |
| Glazing | $10 - $25 |
Keep in mind that these figures include both labor and materials, and can be affected by factors such as geographic location, cabinet material, and the specific cabinet refinishing contractors and product used.
It's important to obtain multiple quotes from professionals to get the most accurate estimate for your cabinet refinishing project.
Tips For Saving Money On Cabinet Refinishing In 2023
There are several ways homeowners can save money on cabinet refinishing in 2023:
By following these tips, homeowners can save money while still achieving an updated and refreshed look for their kitchen cabinets through refinishing in 2023.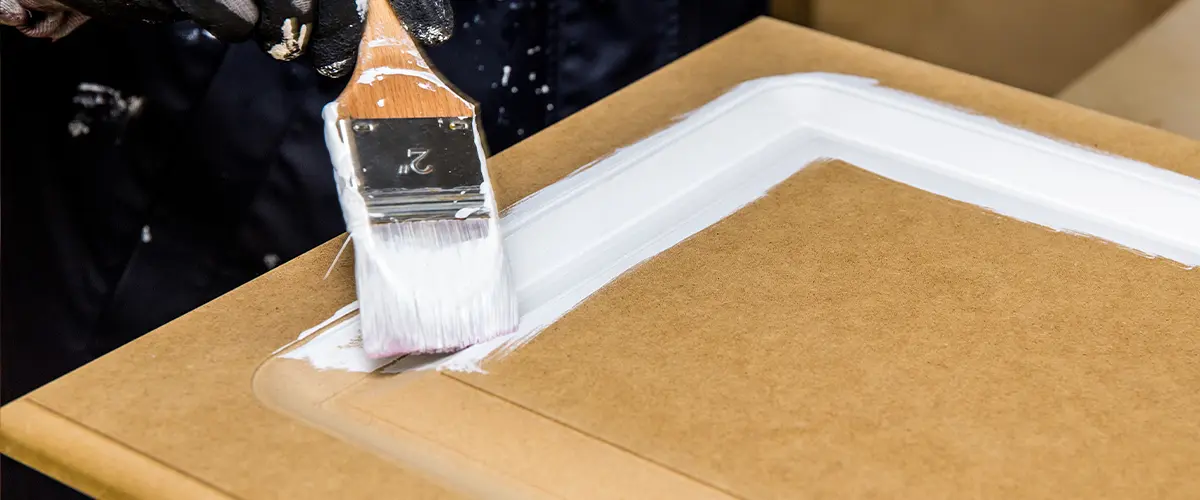 Cabinet refinishing in 2023 is an affordable and quick way to update the look of your kitchen. The cost depends on various factors, including the material used, kitchen size, and complexity of work.
With a national average cost of $2,975 and a range between $1,500 to $5,000, refinishing kitchen cabinets can save you thousands compared to replacing cabinets with new ones.
Cabinet refinishing cost is between $4 and $25 per square foot, so budget accordingly.
If you want a quality refinishing service, here at Offcut Interiors we work with the best tradesmen in Peoria, AZ, to give you the best end product you'll find around Maricopa County.