Installing the right type of flooring in a bathroom is important due to its frequent exposure to water.
Various factors need to be considered when considering the many bathroom flooring options, including durability, maintenance requirements, cost, safety, and more. 
In this article, we will explore some popular materials used for bathroom floors as well as key considerations when choosing a suitable option for your project and space.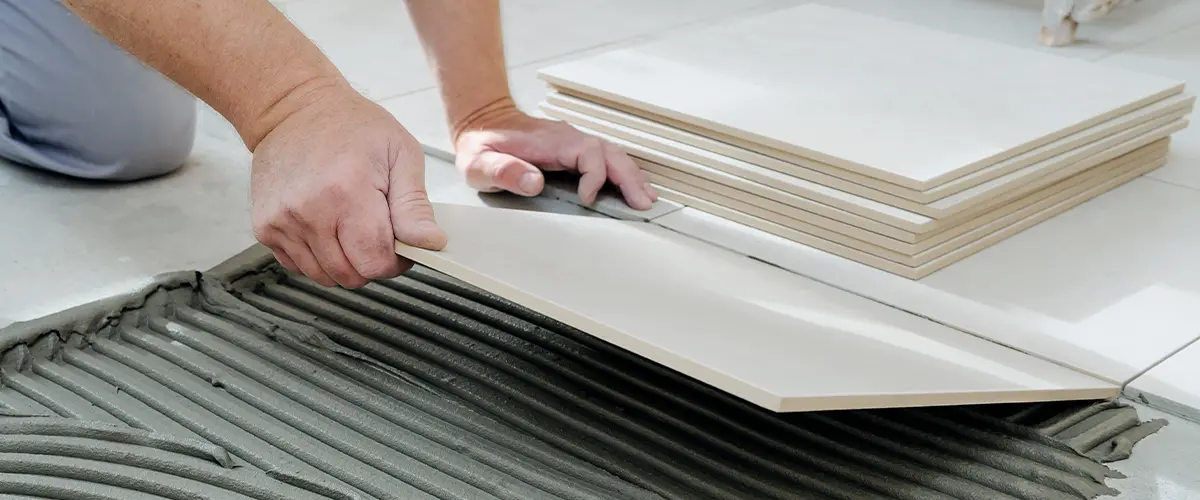 7 Popular Bathroom Flooring Options
Let's dive into each one of the 7 most popular bathroom flooring options and some of their features to help you pick the right one for your bathroom remodeling project.
Porcelain and Ceramic Tile
Porcelain and ceramic tile flooring remain one of the top choices among homeowners looking for bathroom flooring options. With their durability, water resistance, and wide variety of styles, colors, and finishes available, these tiles offer an ideal solution for renovating or remodeling a bathroom.
Porcelain tile is denser than ceramic tile, so it offers more powerful protection against chips and cracks while also being highly resistant to high moisture levels often present in bathrooms.
Moreover, porcelain can even be used on walls in shower areas or other wet spaces due to its waterproof properties.
These materials also come with different textures, such as a matte finish which provides extra grip on the surface, reducing slipping hazards, which is especially important for bathtubs or walk-in showers where water regularly accumulates.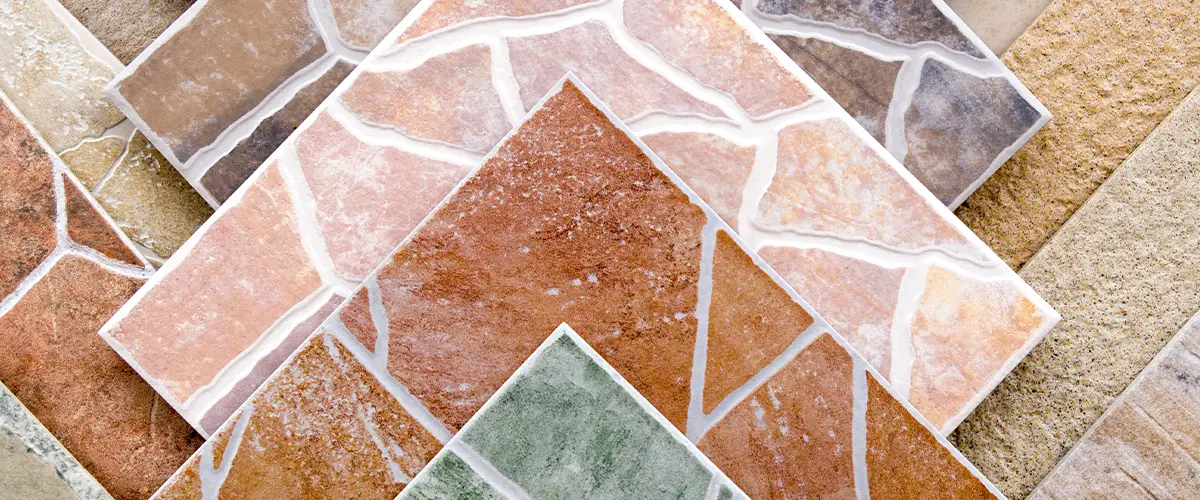 Bathroom flooring that is made of natural stone offers a classic, timeless look and lasting durability. Natural stone tiles such as marble, granite, travertine, limestone, and sandstone make beautiful bathroom floors due to their natural resistance to water.
They are water-resistant and incredibly strong—making them ideal for areas in the house with constant foot traffic. And not only do these stones come with reliable durability but also an eye-catching luster depending on the type of finish you go for.
Marble, in particular, is an excellent option for bathroom floors because of its velvety texture and inherent sophistication without sacrificing strength or longevity. In addition to its beauty and charm, marble is known for its heat-resistant properties – making it perfect even if your bathroom has radiant heating installed!
When you invest in natural stone tile flooring for your home's bathrooms, you will be rewarded with a long-lasting product that can withstand daily wear and tear from both children and pets alike.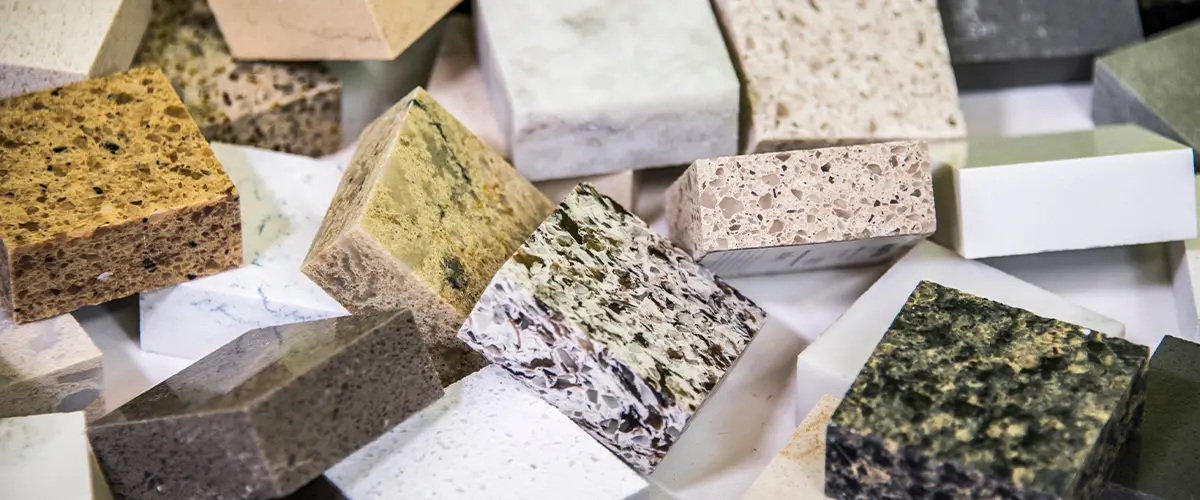 Vinyl for Bathroom Flooring
Vinyl flooring is popular for bathrooms due to its durability, water resistance, and low-maintenance requirements. It's also highly versatile as it can come in plank, sheet, or peel-and-stick styles, so you can find the perfect design option to fit your space.
Thanks to its waterproof qualities and excellent rating on tests for water spills and flooding, vinyl flooring is ideal for areas prone to moisture in a bathroom. Luxury vinyl is particularly common in bathrooms due to its durable construction that can withstand heavy foot traffic with no problem and is resistant to stains, scratches, and wear.
It's also non-slip thanks to HDF core making it safe underfoot when floors get wet or slippery from soap suds and other liquids splashing around.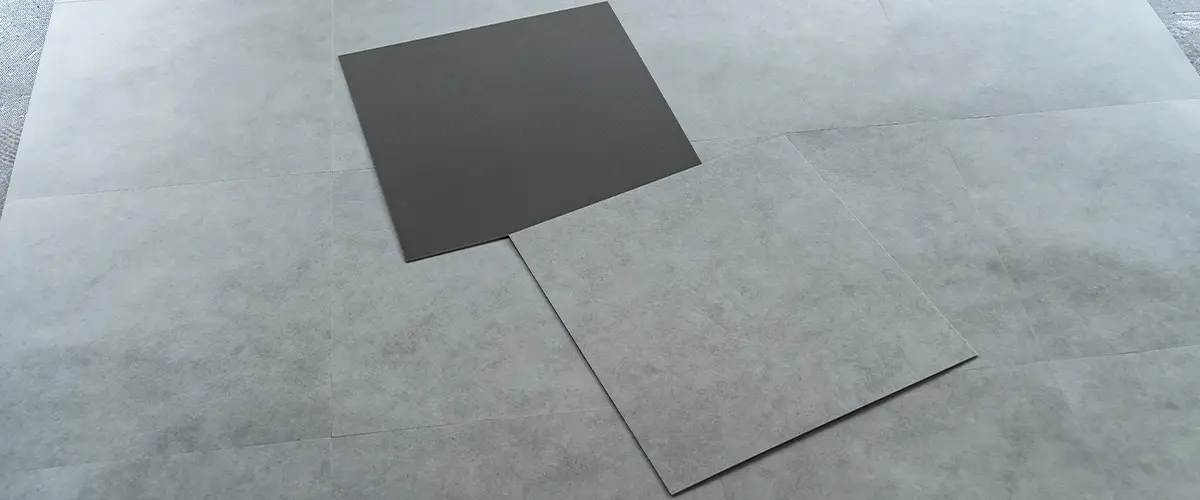 Concrete is a another popular choice for bathroom flooring due to its durability, water resistance, and low maintenance requirements. It offers an array of artistic options that cannot be achieved with other materials.
Concrete floors can be poured as part of the slab foundation or laid over a subfloor using a concrete overlay. To finish the concrete off in style, you can polish it for a smooth look or paint it according to your taste.
In addition to being waterproof, concrete is extremely hard-wearing — perfect if you have children and pets putting daily strain on your home's surfaces!
The thickness and type of concrete used are both important factors to consider when planning out how best to use this material in your space, ensuring the area will withstand any wear and tear while looking attractive for years to come.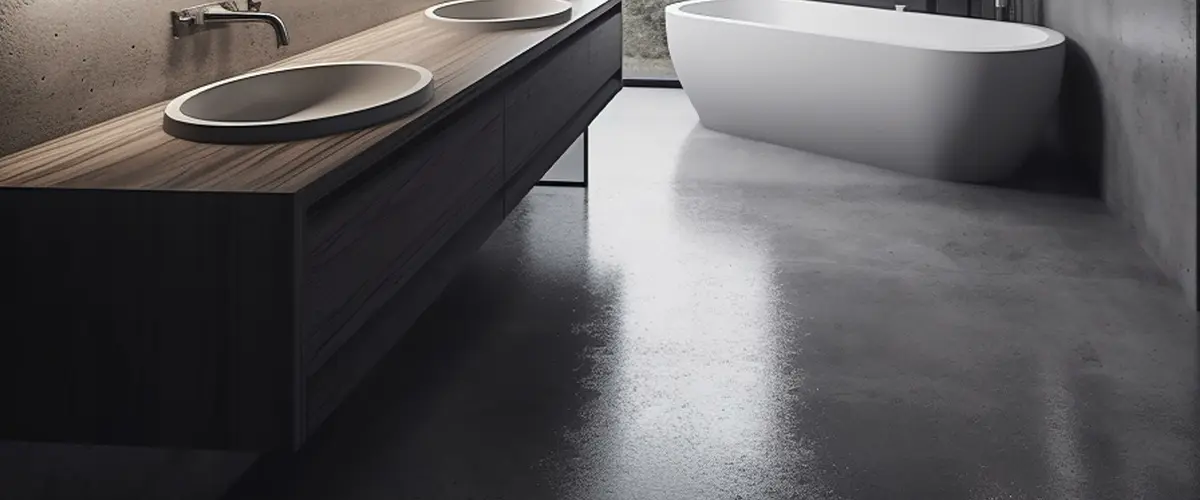 Engineered wood flooring is a great option for bathrooms due to its stability and moisture resistance compared to solid hardwood. It is made with an engineered base layer with real wood veneer finish, giving it the look and feel of solid hardwood without fading or warping when exposed to moisture in high-risk areas like the bathroom.
Engineered wood also features pre-finished construction, lowering labor costs during installation and enabling homeowners to customize their floors through sanding and refinishing as needed.
It also has higher durability than other softer types of flooring, such as cork or vinyl plank flooring, while being more cost-effective than options like 100% natural stone tile or porcelain tile.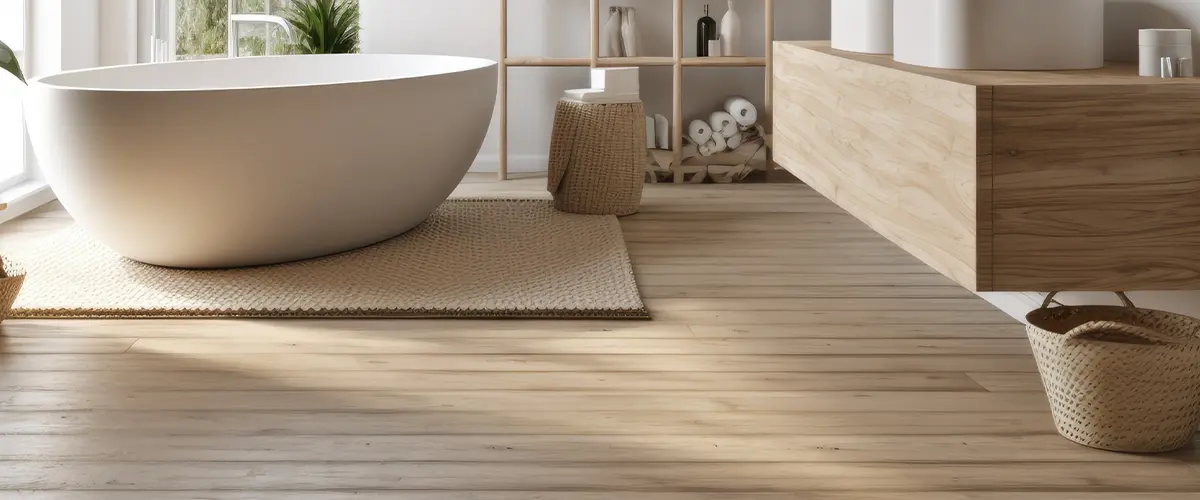 Cork Flooring for Bathrooms
Cork is a popular bathroom flooring choice due to its eco-friendliness, comfort, hypoallergenic properties, and wide range of styles and colors available. Natural cork can be harvested from the bark of cork trees without damaging the tree, making it an excellent renewable material that is better for the environment than many other flooring options.
It also provides a cushioning effect underfoot, making it comfortable and safe. Because of this, people with allergies prefer cork floors over other types as they are hypoallergenic, with no dust or contamination present in their installation process.
Furthermore, waterproof cork planks have been recently introduced; these provide a unique floating floor option with great water resistance and durability even in humid conditions such as bathrooms.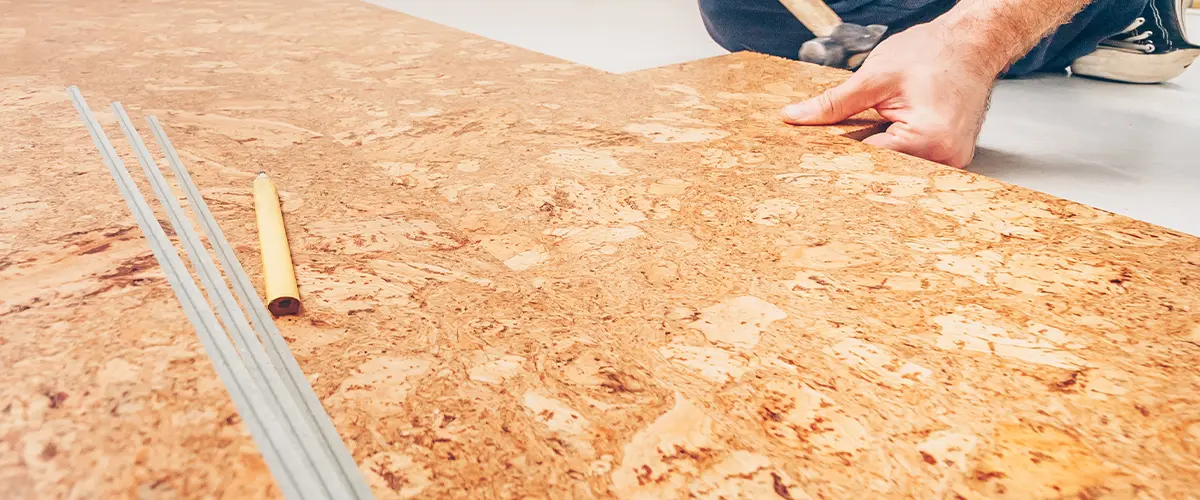 Laminate bathroom flooring is popular among homeowners due to its durability and water resistance. Made with resin-impregnated paper, this flooring resists moisture and wears better than other options, such as solid hardwood.
Additionally, because of its construction method, laminate flooring is easy to install and more affordable when compared to natural materials like tile or stone. Moreover, laminated floors can mimic the look of wood or stone, making them aesthetically pleasing in any bathroom setting.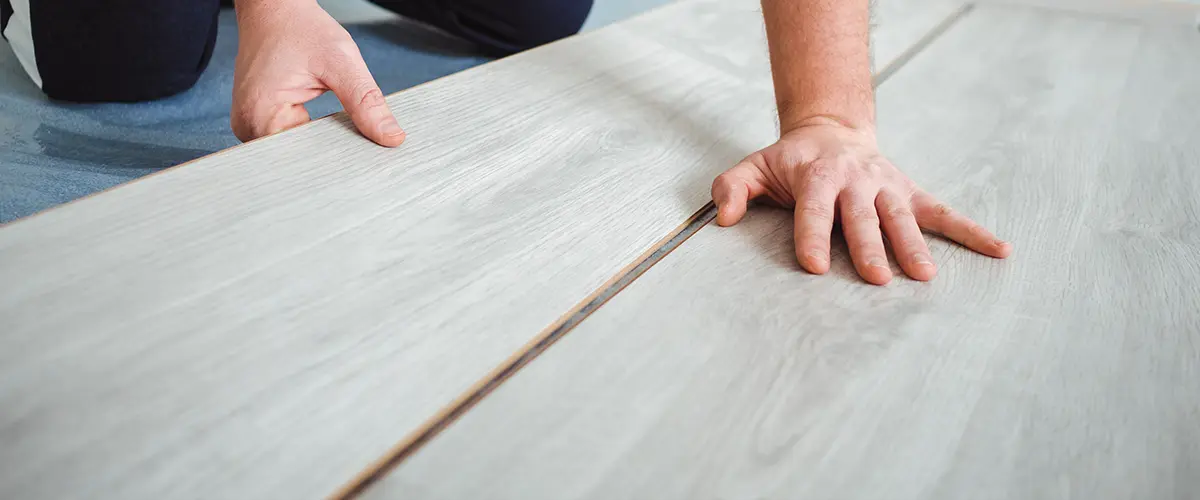 How to Choose Best Bathroom Flooring for You
When choosing bathroom flooring, it is important to consider factors like durability, maintenance requirements, and safety – so make sure you weigh your options carefully.
When selecting bathroom flooring, high-quality materials that can stand up to a bathroom's everyday wear and tear are essential. Waterproof options like vinyl, engineered hardwood, or tile provide greater durability and water resistance than other materials typically used in bathrooms.
The advantages of these durable floors include their resistance to stains and household chemicals, making them much easier to clean and maintain than conventional carpet or wood flooring, which can be easily damaged by moisture.
Vinyl also offers slip-resistance benefits due to its textured surface, making it an ideal choice for wet areas such as showers which require added safety precautions.
Lastly, porcelain tiles are becoming increasingly popular among homeowners due to their durability; they can withstand impacts from dropped items without cracking or chipping while offering years of service with minimal maintenance requirements aside from regular cleaning.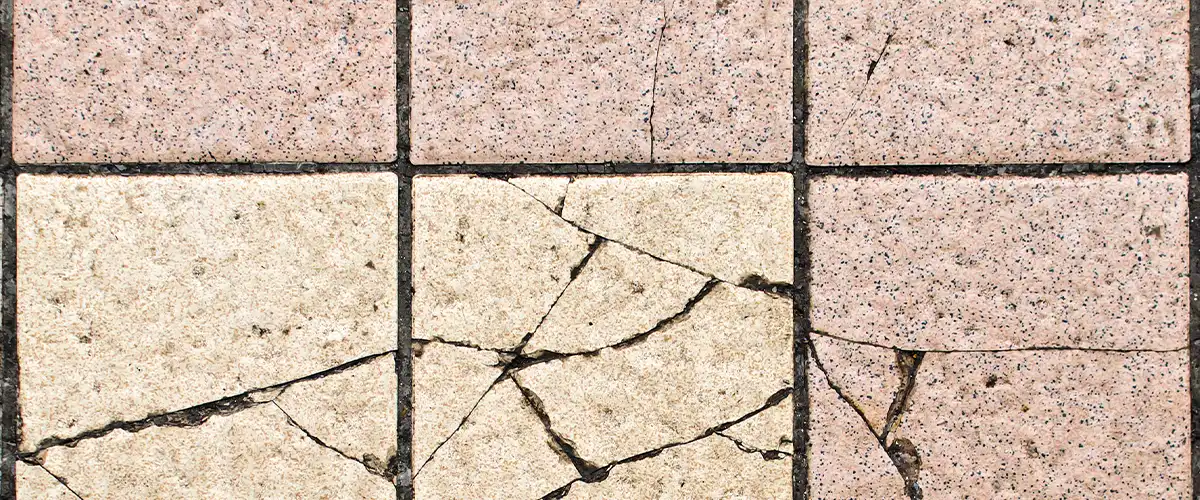 When choosing bathroom flooring, it is important to consider water resistance. Moisture from showers and baths can cause damage to non-resistant materials such as hardwood or laminate flooring, leading to warping and mold growth.
To protect against this potential damage, the best choice would be to choose a waterproof material like vinyl, porcelain tile, or engineered wood that can handle constant exposure to moisture without becoming warped or discolored.
Vinyl planks are especially popular because they come with no cork backing, which helps make them 100% waterproof. Plus, luxury vinyl tiles and planks have excellent resistance to spills and flooding.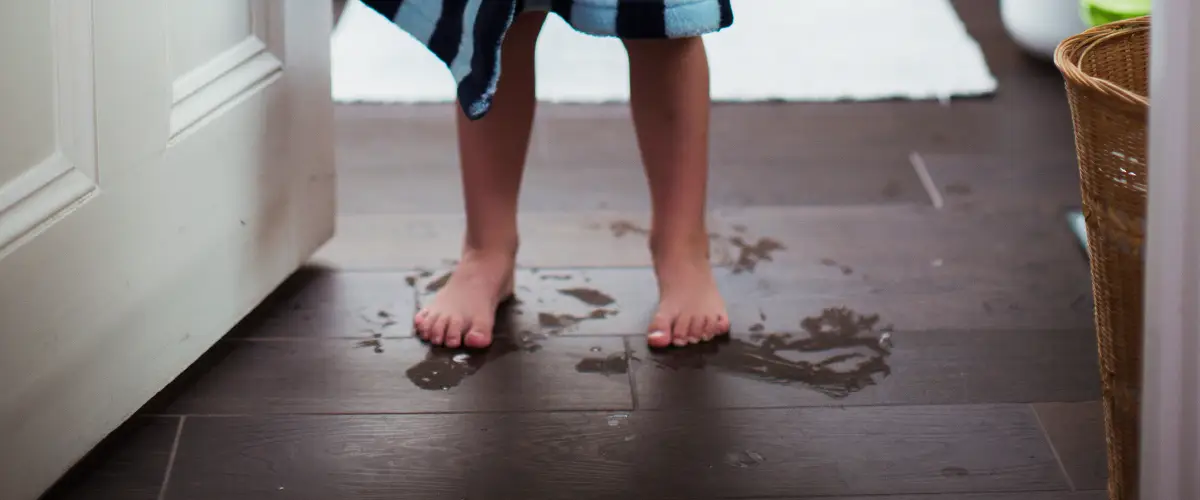 When selecting bathroom flooring, it's important to consider maintenance requirements. The nature of the materials chosen for the floor will influence the amount of upkeep they require. 
Porcelain and ceramic tiles are ideal for busy bathrooms since their surfaces are easy to clean – regular mopping with a mild cleaning solution should be enough.
Natural stone is also relatively low-maintenance but requires sealing and resealing every two years or so. Vinyl forms a durable surface impervious to moisture; however, periodic scrubbing may be necessary depending on the debris tracked over time.
Concrete needs regular polishing and repair after some use, while engineered wood can often last several years without requiring any maintenance.
Lastly, cork and laminate floors demand swift action if there's any sign of water leakage, as both materials lack waterproofing capabilities or resistance against mold growth caused by humidity buildup in bathrooms.
A key consideration when deciding on the right bathroom flooring is cost. Generally speaking, non-ceramic materials tend to be more economical than porcelain or ceramic tiles. For example, vinyl planks and tiles are often preferred for their affordability and durability.
When it comes to choosing bathroom flooring, safety should always be at the top of your list. Slips and falls are risky in wet and wet/dry environments, so slip resistance must be carefully considered when selecting materials.
Appropriate traction is essential for avoiding accidents or trips on slick surfaces, especially with children and older adults in the home. Choose waterproof floors that are highly resistant to water infiltration, as mold can grow beneath the surface if you don't wipe spills fast enough.
Materials like tile or naturally moisture-resistant cork will help keep bathrooms secure while looking stylish. Stone floors also offer ample traction, ensuring all household members remain safe from slipping injuries within your space!
Get In Touch With Arizona's Finest Bathroom Remodelers
And if you don't want to have to worry about any of that, send us a message because the passionate bathroom remodelers here at Offcut can handle the entire bathroom remodeling process for you, from start to finish.