The Best Home Remodeling Cost In Peoria, AZ
Get your custom quote and find out exactly how much to budget!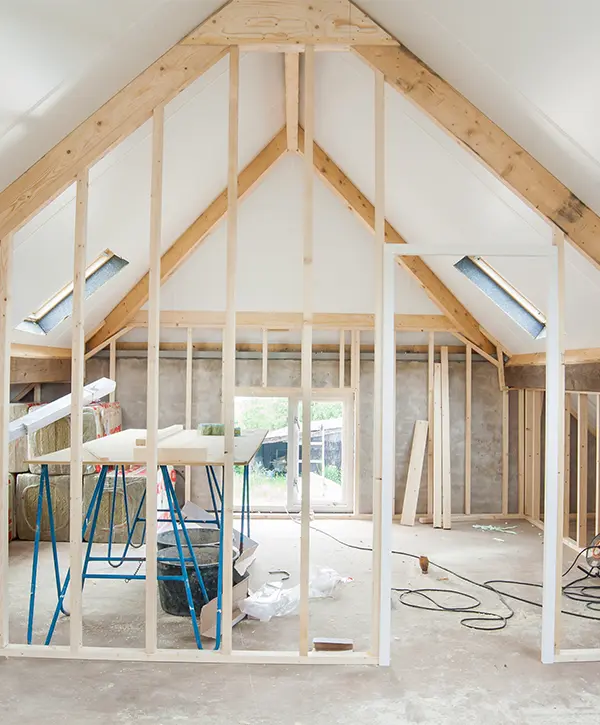 Home remodeling expenses are a frequent quandary for Peoria, AZ, homeowners. Luckily, we have the answers you need to make an informed decision about your project!
Offcut Interiors strives to bring Peoria residents the best possible prices, so they can upgrade their homes without breaking the bank and avoiding any of the stress commonly associated with remodeling.
We guarantee you an unforgettable remodeling experience, and we know that once you've seen our work, you'll come back for more!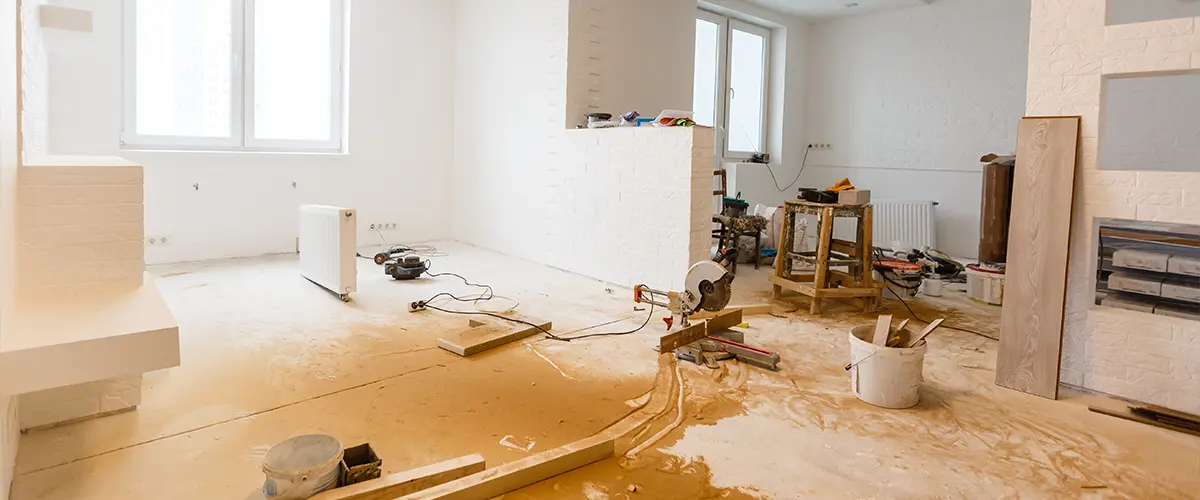 A Superior Home Remodeling Service In Peoria, AZ
Although remodeling your home can be expensive, the added value to your property makes it more than worthwhile. Plus, when you choose us for service in Peoria, AZ, you're gaining access to some of the best contractors around!
Typical Home Remodeling Cost In Peoria
Generally, it will cost you between $10 and $60 per square foot to do a full home remodel. Keep in mind that the scope of work increases with more space, thus driving up expenses accordingly.
According to the National Association of Home Builders, homeowners should be prepared to allocate a certain amount for their upcoming home renovations. To provide you with an idea of how much this may cost, here are the figures they recommend budgeting for.
| Project Type | Suggested Spend |
| --- | --- |
| Kitchen | 16% |
| Attic or basement | 10% - 15% |
| Primary bedroom | 13% |
| Living area | 10% |
| Primary bathroom | 7% |
| Small bathroom | 5% |
| Siding | 3% - 5% |
| Windows | 3% - 4% |
| Patio or backyard | 2% - 5% |
| Roof | 2% - 4% |
Types Of Home Remodeling Ideas And Their Associated Cost
Refresh your home with a world-class remodel! Whether you're after an entire transformation or just some small tweaks, we will cover all aspects of the project from beginning to end. Here are some remodeling ideas with their associated cost.
Home makeovers are complex, but kitchen renovations are the project most likely to add a huge range of options.
Here at Offcut Interiors, we've worked on kitchens for as low as $20k and as high as over $100k.
Transforming your kitchen can be pricey, with cabinets forming the bulk of your expenditure. Countertops, appliances, and flooring come in second place when allocating funds; however, to create a genuinely luxurious transformation – don't forget to add extra features like hardware fittings, backsplash tiles, and corner storage solutions!
Low- and mid-range kitchen remodels can offer up to 72% return on investment and are perfect if you intend to sell the space quickly.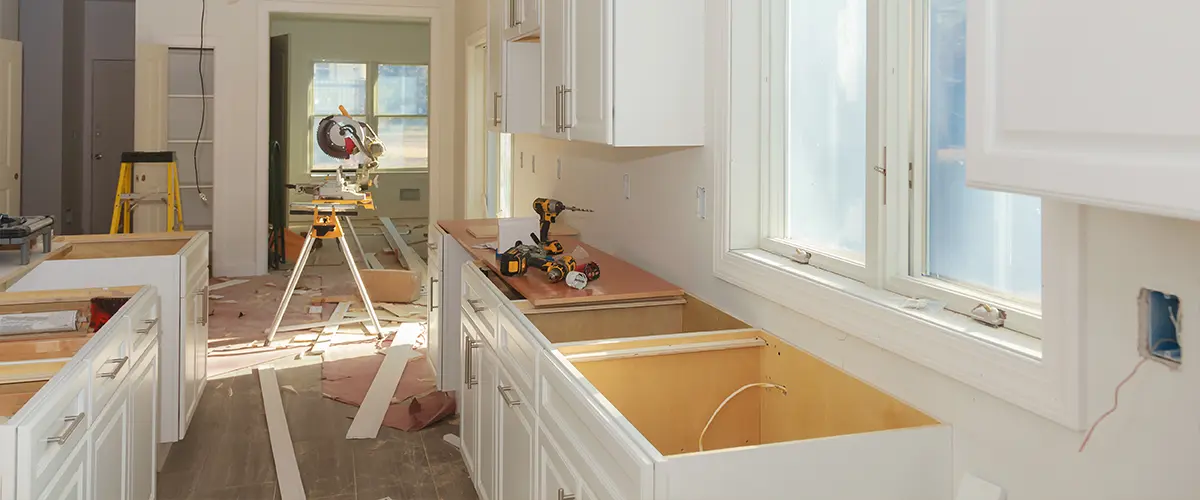 Create a tranquil and refreshing bathroom atmosphere that will revitalize your body and mind.
The average cost of renovating a bathroom can range from $20,000 to an astonishingly high $38,000. Nonetheless, exploring all the possibilities available and upgrading your space is invaluable.
Upgrading your vanity and tile can come with a hefty price tag, such as an enclosed glass walk-in shower costing up to ten thousand dollars. Cabinets, on the other hand, typically run between two and five grand – giving you plenty of options for matching both budget needs and style desires!
Investing in a mid-range bathroom makeover brings an impressive 60% return on investment.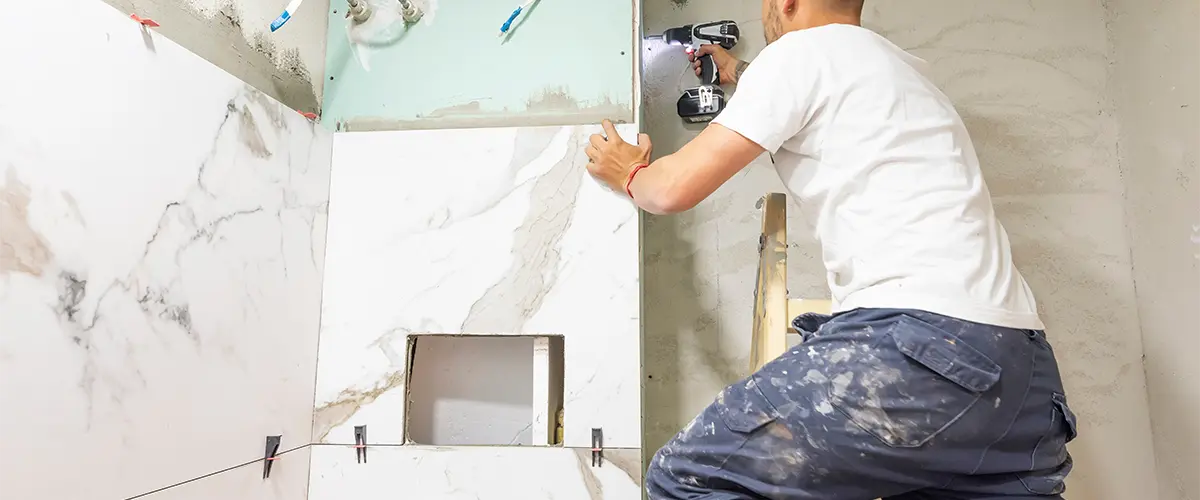 Investing in a basement finishing project can unlock the hidden potential of your home and reap the rewards it has to offer. With thoughtful remodeling efforts, you can transform your basement into an area that adds life and value to your residence.
If you're looking to remodel your basement, it's important to know that this project's cost is not insignificant. These numbers may seem overwhelming, from a low expenditure of $2,800 to a staggering $34,500.
To give some perspective: generally speaking, labor and materials are estimated at an average rate of between $7-$23 per square foot (per Angi.)
Transforming a basement can be exciting because you can turn it into whatever room you want. Create your own haven – a man cave, studio, bedroom, office, in-house gym or home theatre. The possibilities are endless!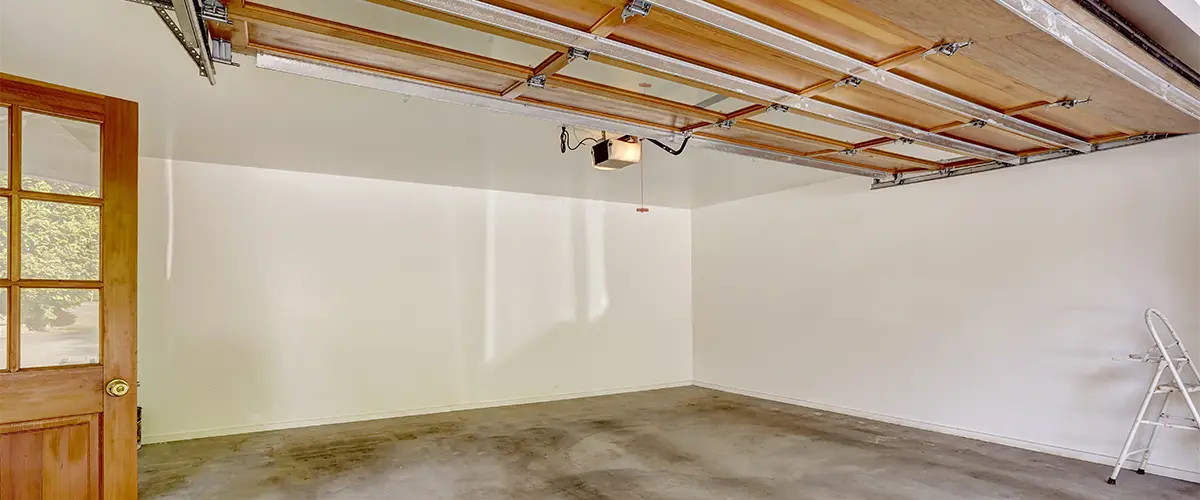 Basements have left behind their eerie stigma, and homeowners everywhere now see the rewards of unlocking this unknown potential. It doesn't take much to bring your basement into the current era with thoughtful upgrades that will add life and value to your home.
When planning a basement renovation, you should know that this endeavor is not cheap. Prices can range from $2,800 to $34,500. To put it into perspective: labor and materials tend to cost between $7 -$23 per square foot, as reported by Angi. Therefore, if you're looking ahead at the expenditure associated with such a project – brace yourself!
Transforming a basement can be exciting, mainly because you can turn it into whatever room you want.
Create your own haven – a man cave, studio, bedroom, office, in-house gym or home theatre. The possibilities are endless!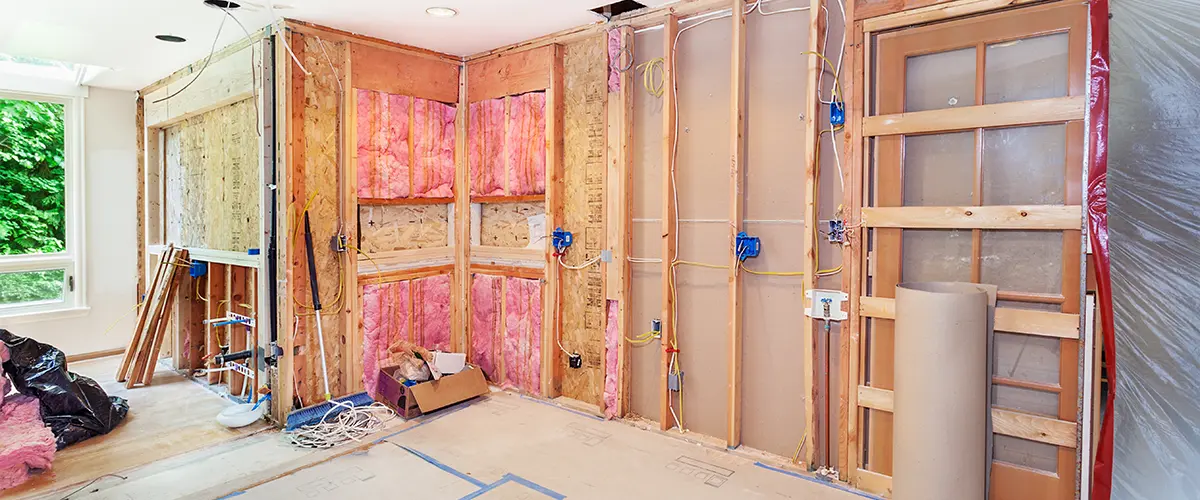 Homeowners have an innate desire to turn their homes into a showstopper.
Your house's exterior creates an everlasting impression on everyone who passes by, so why not make sure that it displays sophistication and style?
Give your property an upgrade and enhance its functionality with structural repairs like roof replacements, siding upgrades, or window and door updates. If you're looking to create a more enjoyable outdoor space for yourself, consider adding a new deck, pergola, or paved patio, which will undoubtedly make the overall aesthetic of your home stand out from the rest!
| Project Type | Cost | Additional Home Value | Return On Investment |
| --- | --- | --- | --- |
| Roofing Replacement | $37,144 | $21,482 | 56% |
| Side Replacement | $18,101 | $12,467 | 69% |
| Window Replacement | $21,302 | $14,471 | 68% |
| Deck Addition | $19,596 | $12,604 | 65% |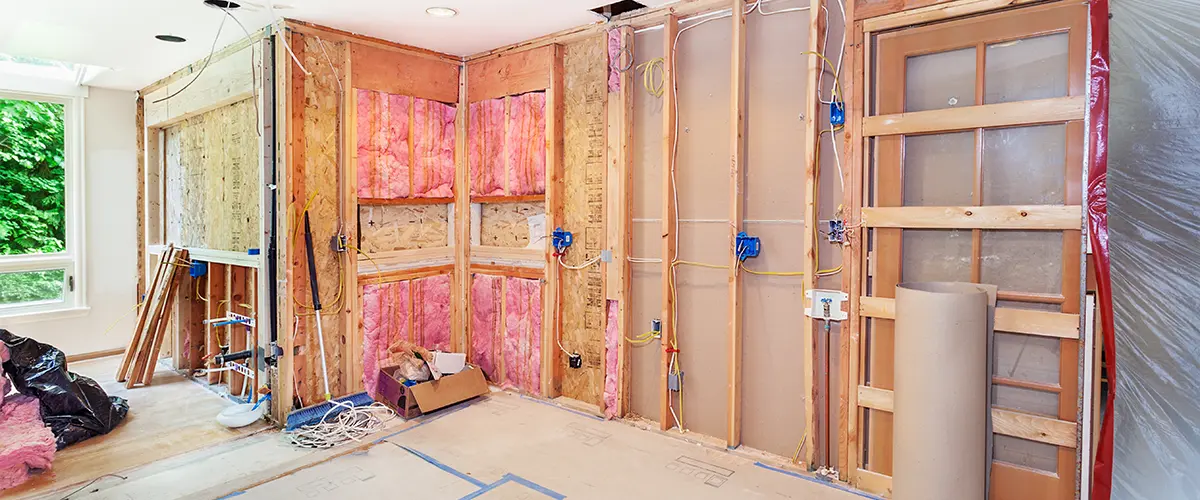 Other Upgrades That Make Your Life Easier
Some of the most common upgrades and changes that can improve your living space include:
Frequently Asked Questions
Estimating the price tag of a home remodel is difficult, as it depends on numerous elements such as size, type of makeover needed, and geographical location.
Are you ready to spruce up your home? A moderate renovation, such as repainting surfaces or replacing flooring, may cost between $250k and $350k. However, if you desire a luxurious transformation with each room completely renovated and extra living space added, expect to spend around $400K-$500K!
When you choose us for your renovation needs, our services are guaranteed to exceed expectations. From minor jobs such as painting or replacing flooring (which take only two weeks) to more comprehensive tasks lasting up to six months, we handle each transformation step with utmost care and attention. Rest assured, knowing that all will be taken care of – leaving you feeling worry-free!
When you need to ensure that your tiling is done correctly and within Peoria's building regulations, Offcut Interiors should be at the top of your list.
Our licensed and insured professionals have a wealth of experience understanding local rules, so there won't be any surprises during compliance inspections! We'll ensure every step of this project goes smoothly by using our expertise to guarantee excellence in quality – no matter what comes up!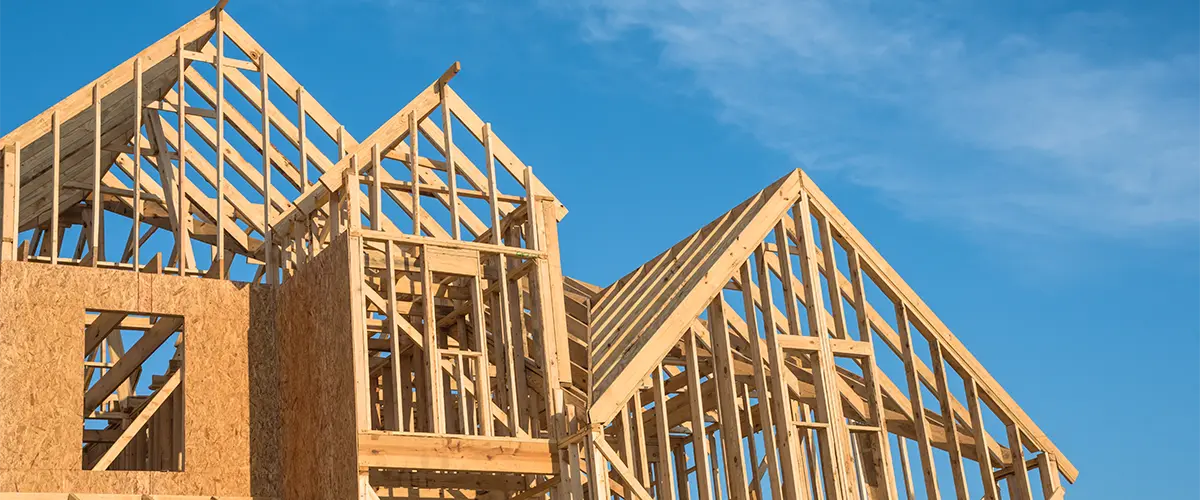 Time To Get Your Well-Deserved Home Remodel!
At Offcut Interiors, we understand the vital importance of keeping you in the loop about your project's advancement.
Our mission is to provide exemplary customer service and ensure no detail is overlooked. To make every step visible to you, from outlining daily plans and objectives all the way to achieving long-term goals, we are leveraging cutting-edge tools and applications.
With a competent team of specialists set to begin your home renovation, you can place your trust in the project that will ultimately become one of the most important investments. In time, you'll have something incredible and unforgettable to show for it!
Get ready to experience:
Take The Last Step In A Long-Overdue Upgrade