The Best Bathroom Remodeling Cost In Surprise, AZ
Get your custom quote and find out exactly how much to budget!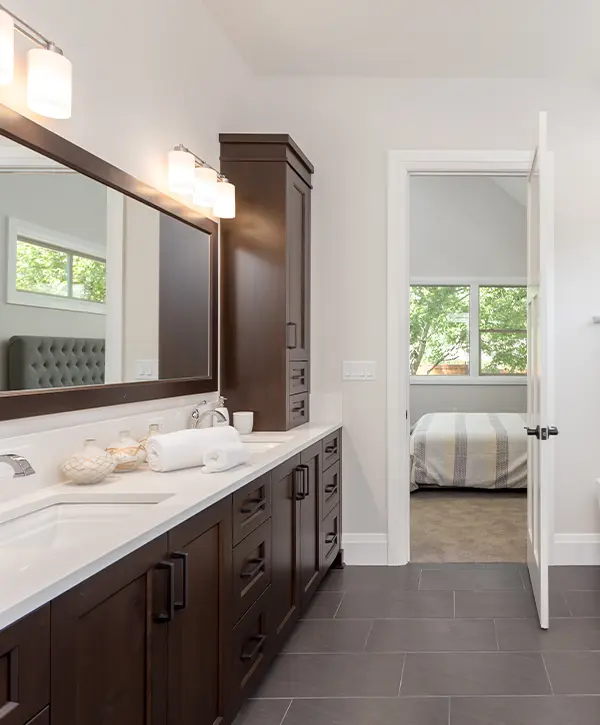 The Cost vs Value Report 2022 states that a bathroom remodeling cost in Surprise, AZ, is usually around $25k for a minor bathroom and close to $80k for an upscale bathroom. 
The ROI of these home improvement projects are a bit over 54%, making it a great investment from both a financial and well being standpoint.
But to make sure you tap into the full potential of your bathroom and get these results (or even better ones), working with a professional is key.
Here at Offcut Interiors, we're giving you a clear bathroom remodeling cost breakdown, so keep reading!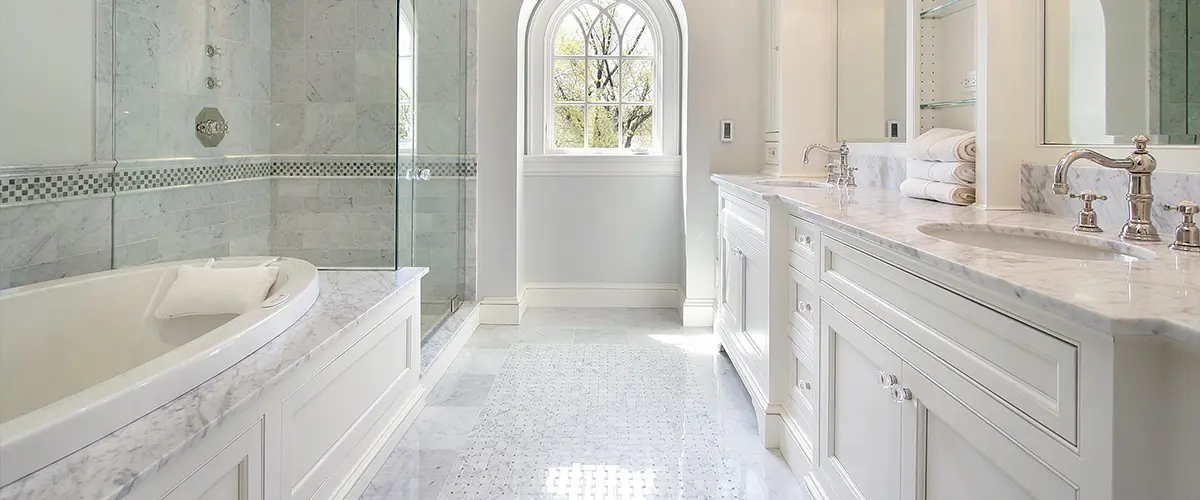 The Typical Bathroom Remodels Cost In Surprise
To give you a better idea of the expenses involved, bathroom remodeling costs can fluctuate based on factors such as room size, materials, and personal choices. Below are estimated prices for varying bathroom sizes.
| Size/Category | Economy | Standard | High-end | Luxury |
| --- | --- | --- | --- | --- |
| Small Bathroom (5'x8′) | $9k – $12k | $12k– $15k | $15k– $18k | $18k– $22k |
| Average Bathroom | $12k - $14k | $15k – $12k | $19k – $25k | $25k – $30k |
| Large Bathroom | $20k – $25k | $25k – $35k | $35k – $50k | $50k – $80k |
| Category | Economy | High-end |
| --- | --- | --- |
| Small Bathroom (5'x8′) | $9k – $12k | $15k– $18k |
| Average Bathroom | $12k - $14k | $19k – $25k |
| Large Bathroom | $20k – $25k | $35k – $50k |
Get your free quote from Offcut Interiors now and enjoy having the best pros in town on your project! We'll make your remodel worth it by transforming it into an investment!
Labor In A Bathroom Remodel Cost In Surprise
Depending on the changes you want to make, you'll need different professionals for every stage.
If you want to add or remove bathroom walls during remodeling, the architect's role is to guarantee your bathroom's safety and structural stability. They'll also make it easier to obtain the building permit in Surprise, AZ. 
Architects generally charge between $65 and $400 per hour, or a one-time fee of 10% to 20% of the total cost of your project.
To have a bathroom that serves its purpose well and looks great, it is important to collaborate with a skilled bathroom designer. They will guarantee that your new bathroom is fully functional.
Designers charge 10–20% of the overall remodel cost, or a one-time consultation costs range from $300 to $1,500, depending on their skill level.
It is advisable to call a competent plumber to ensure your new bathroom won't have any water-related issues.
Plumbers charge between $70 and $150 per hour for their services and any necessary materials expenses.
Upgrade the electrical wiring in your home when moving your appliances to ensure safety and efficiency. Older wiring installations can be unsafe.
Keep in mind that hiring an electrician typically costs between $80 and $150 per hour, not including supplies.
Get All In One With Offcut Interiors
Avoid the hassle of recruiting multiple people for your bathroom remodeling in Surprise, and get everything you need right now!
Offcut Interiors, a one-stop shop for bathroom remodeling, has formed a team of professional Arizona professionals committed to your success. We all share the same values and we're all just as committed to your success as you are!
We offer professional bathroom remodeling in Surprise and surrounding areas! Check out our offer and enjoy a spectacular team of experts dedicated to seeing your vision through!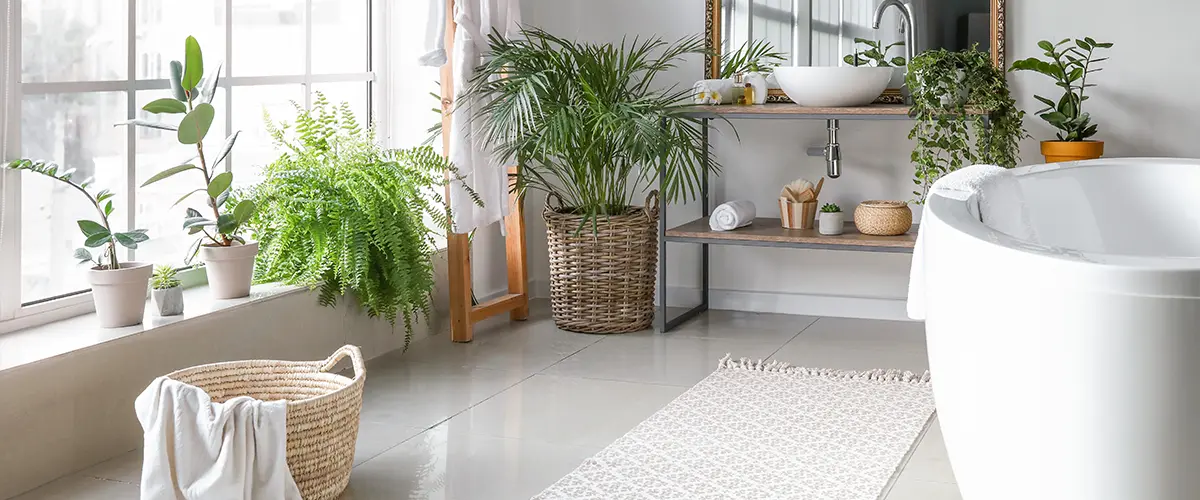 Bathroom Remodel Cost In Surprise By Upgrades
Here is the cost of some of the most popular materials, features, and upgrades you can get for your new bath.
If you have a small bathroom, consider installing a vanity that suits your style to make it more appealing. If your large bathroom lacks storage space, a twin vanity could help maximize the available space. To create an impressive centerpiece in a powder room or guest bath, opt for a vanity with decorative features.
If you have a specific vision for your space and want it to be accurately reflected, opting for custom cabinets could be the right choice. On the other hand, if you prioritize getting a great bang for your buck, semi-custom cabinets may be more appropriate.
If you're looking for a quick ROI, go with a semi-custom vanity. If you want a better vanity, made specifically for you, choose a custom vanity. The cost of a custom vanity can vary from $2k to $5k or more.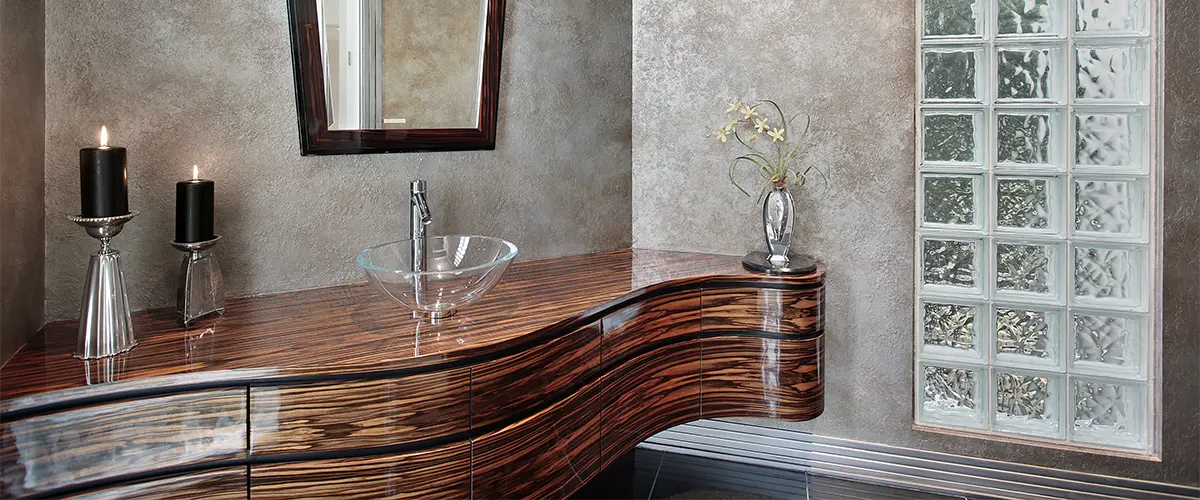 To complete the look of your space, it's important to choose a countertop that matches the appeal of your new vanity. Not only do they enhance the aesthetics, but they are also essential. For a long-lasting and sturdy countertop, quartz is an ideal choice.
Quartz worktops have a consistent look and feel, lacking any veins, which makes them an elegant addition to your bathroom. Additionally, these worktops are scratch-resistant, making them perfect for areas in your home that experience high foot traffic.Quartz comes in at around $75-$100 per square foot.
Other materials like granite in the bathroom mean having strength, durability, and scratch resistance. However, the high cost of installation is one of the most significant drawbacks of utilizing granite or marble in the bathroom.
| Material | Typical Cost (Per square foot installed) |
| --- | --- |
| Laminate | $30-$72 |
| Quartz | $72-$240 |
| Hardwood | $54-$300 |
| Marble | $102-$360 |
| Granite | $100-$400 |
| Stainless Steel | $109-$275 |
The cost of refinishing your current wooden floors can range from $3 to $8 per square foot. However, having wooden floors in a bathroom may not be the best option due to moisture issues.
Porcelain tiles are a great choice for bathroom flooring but are more costly than other materials. Professional installation of tiles typically ranges from $10 – $30 per square foot.
Luxury vinyl tiles or planks are a cost-effective alternative that mimics stone or wood's appearance without downsides. LVP floorboards typically cost between $2.5 to $12 per square foot.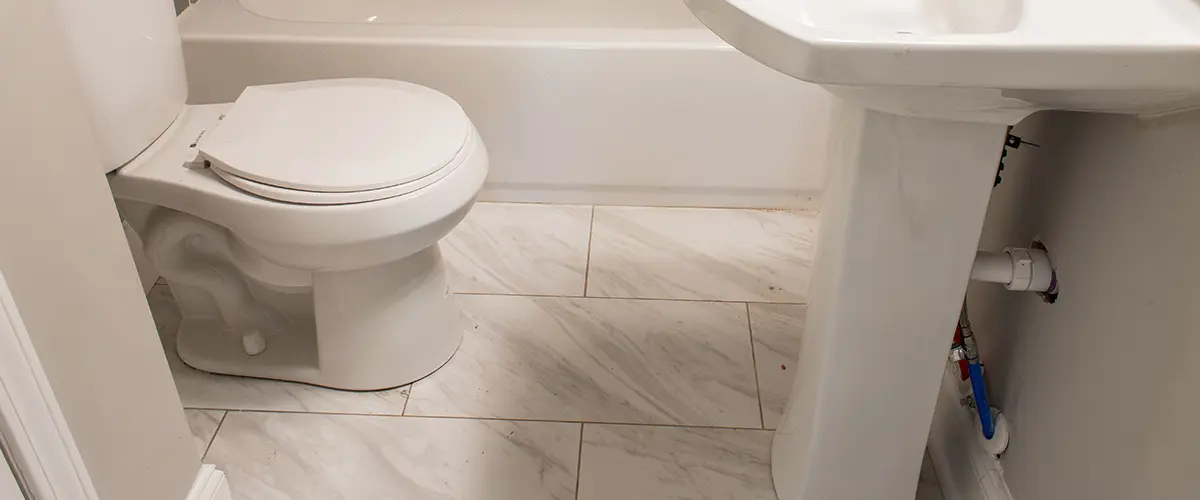 Upgrading your bathroom with a walk-in shower with glass doors or a freestanding tub can greatly improve its appearance. It's important to note that these upgrades may come with extra expenses. 
Nevertheless, the benefits of investing in these items for your bathroom remodel are long-lasting and make the cost worthwhile.
To renovate a shower with bathroom tile, the cost can vary between $1,000 to $5,000 based on the shower's size and materials used. Typically, most walk-in showers are renovated at a cost of $1,000 or higher. Moreover, a free-standing tub can cost between $2,000 to $10,000 depending on your chosen option.
Other Features And Upgrades
Besides what we mentioned, other bathroom upgrades will also add to the final quote.
Budgeting For Your Bathroom Remodel Cost In Surprise
If you want to renovate your bathroom, you'll need to invest considerable effort, time, and money. But don't worry – you can use some budget-friendly tricks to save money without sacrificing the quality of your project. Check out these tips for a smoother, more affordable bathroom renovation.
If you don't think taking care of your bathroom is important, then saving money on small improvements is a good idea. However, if your bathroom is where you go to relax and unwind, it might be worth investing more in creating a welcoming atmosphere.
Collaborating with design experts can ensure that the style and layout of your space meet your standards, leading to greater comfort during your time there.
During a bathroom renovation, it is crucial to anticipate unexpected issues such as mold, mildew, and plumbing problems. While they may not be apparent at first, these factors are important to take into account.
It is recommended to set aside an extra 20% of your project cost as a precautionary measure in case of any unexpected circumstances. This additional amount may prove to be helpful if anything unforeseen occurs, and you can choose to keep it in your account if everything goes according to plan.
It is important to understand the services you are paying for to plan your finances properly. You must choose a reliable and truthful contractor by taking the time to make a careful selection.
Ask your contractor questions about anything that comes to your mind, and consult with him regarding other materials or your concerns.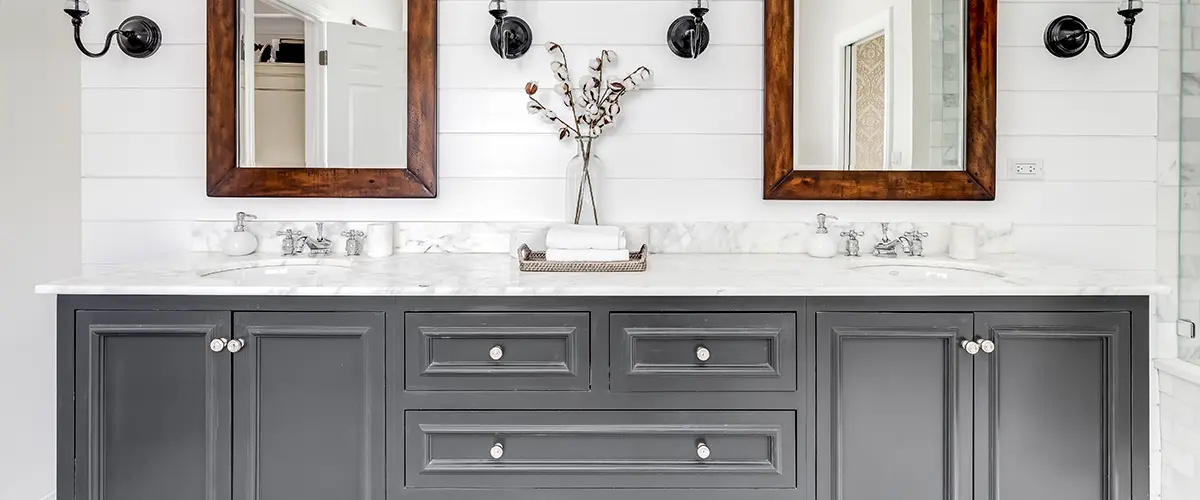 Enjoy The Best Quality Craft At The Best Price Around Here
Offcut Interiors can work with you to design the perfect bathroom, regardless of its size. If you want to renovate your bathroom in Surprise and add modern and efficient upgrades, the average cost would be around $30,000. 
However, we can still offer you high-quality options that fit within your budget if you have a limited budget.
With our bathroom remodeling services, we ensure that your project stays on track and within budget. We tend to over-deliver, so expect:
Get Fair And Upfront Pricing On Your Bath Remodel now!