The Best Bathroom Remodeling Cost In Phoenix
No time to read? Get a personalized quote for your bathroom remodeling project now!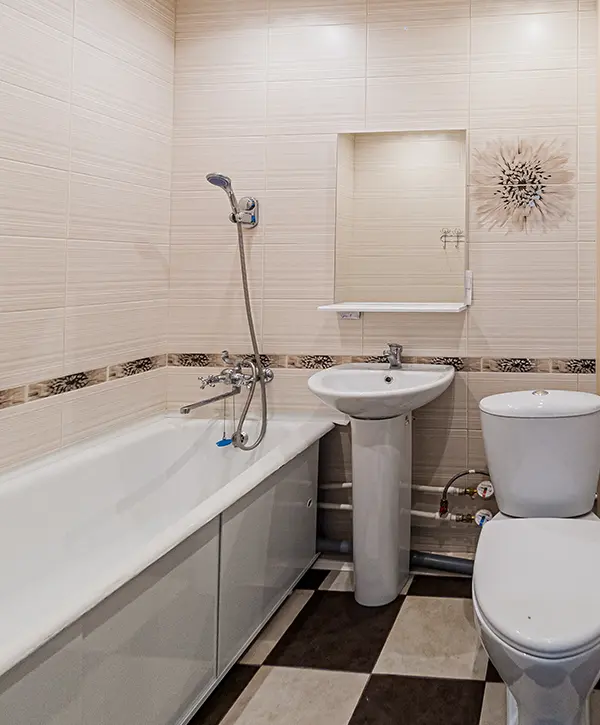 According to the Cost vs Value Report 2023, the typical cost for a bathroom renovation in Phoenix, AZ, is approximately $30,000, and an upscale bathroom remodel is around $80k. 
This is a great home improvement project that brings over 54% ROI which you'll see upon selling the place.
Here at Offcut Interiors, we understand the bathroom remodeling cost is a concern for most homeowners, so we want to set the record straight and give you an accurate breakdown on how to properly budget for your bathroom remodel. 
Let's dive right in!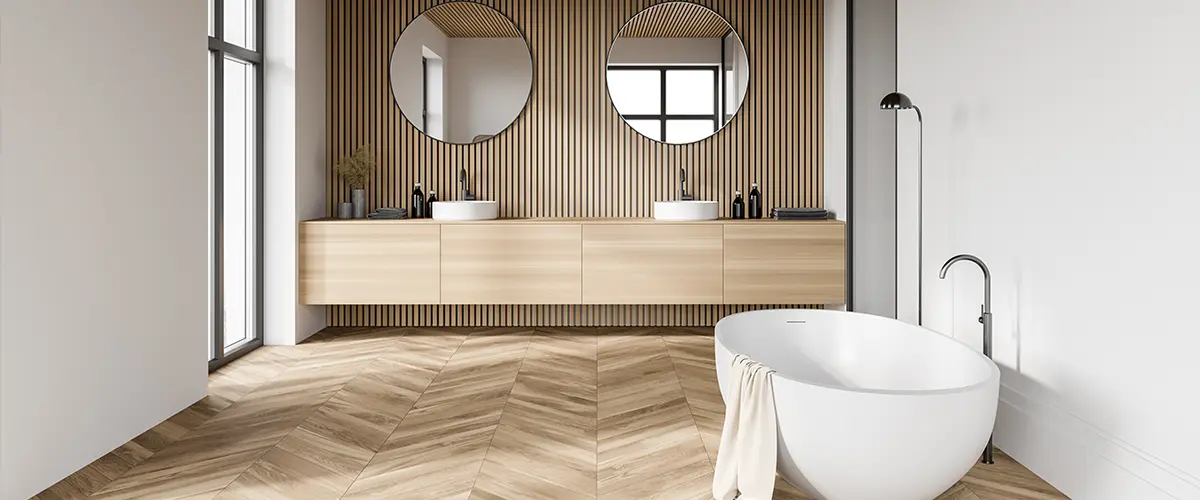 The Typical Bathroom Remodels Cost In Phoenix, AZ
The cost of remodeling your bathroom can vary depending on factors such as the size of the room, the materials you choose, and your personal preferences. To provide you with a more precise understanding of the costs involved, here are some estimated prices based on different bathroom sizes.
| Size/Category | Economy | Standard | High-end | Luxury |
| --- | --- | --- | --- | --- |
| Small Bathroom (5'x8′) | $9k – $12k | $12k– $15k | $15k– $18k | $18k– $22k |
| Average Bathroom | $12k - $14k | $15k – $12k | $19k – $25k | $25k – $30k |
| Large Bathroom | $20k – $25k | $25k – $35k | $35k – $50k | $50k – $80k |
| Category | Economy | High-end |
| --- | --- | --- |
| Small Bathroom (5'x8′) | $9k – $12k | $15k– $18k |
| Average Bathroom | $12k - $14k | $19k – $25k |
| Large Bathroom | $20k – $25k | $35k – $50k |
Get your free quote from Offcut Interiors now and enjoy having the best pros in town on your project! We'll make your remodel worth it by transforming it into an investment!
Labor In A Bathroom Remodel Cost In Phoenix
Depending on the changes you want to make, you'll need different professionals for every stage.
If you plan to build new walls or demolish existing ones in your bathroom, you will need to hire an architect. He'll help you out with drawings and plans that are necessary in acquiring a building permit for your remodel.
Architects generally charge between $65 and $400 per hour or a one-time fee of 10% to 20% of the total cost of your project.
If you want a bathroom that is both functional and visually appealing, it's essential to work with an experienced bathroom designer. They can ensure that your new bathroom is efficient and complements the style of your home.
Designers charge 10-20% of the overall remodel cost; one-time consultation costs range from $300 to $1,500, depending on their skill level.
It is necessary to have a plumber come and inspect the bathroom installation to ensure that it meets all code requirements and operates at full capacity.
Plumbers charge between $70 and $150 per hour for their services and any necessary materials expenses.
When moving your appliances, make sure to also upgrade the electrical wiring in your home. Older wiring installations can be unsafe and not very efficient.
Remember, safety is important for you and your loved ones. Usually, an electrician costs between $80 and $150 per hour in addition to supplies.
Get All In One With Offcut Interiors Premium Remodeling Services
Avoid the hassle of recruiting multiple people for your bathroom remodeling in Phoenix, and get everything you need right now!
Offcut Interiors has gathered a team of highly skilled tradesmen from Arizona to assist you in realizing your vision. We collaborate with proficient professionals who share our values and are fully committed to your success.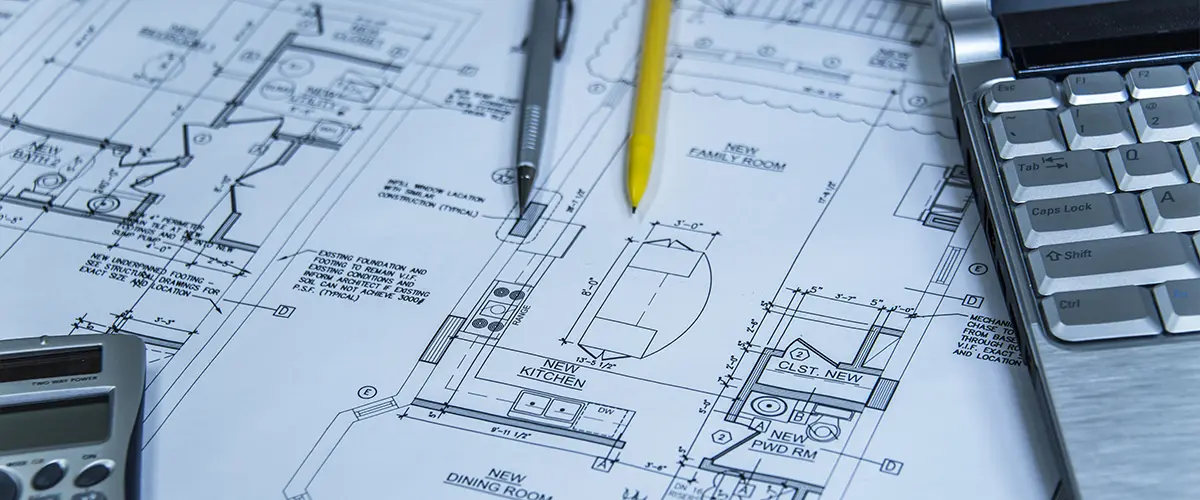 Bathroom Remodeling Cost In Phoenix By Upgrades
Here is the cost of some of the most popular materials, features, and upgrades you can get for your new bath.
To enhance the appeal of a small bathroom, you can install a vanity that complements your personal style. In case your regular-sized bathroom has limited storage, you can go for a twin vanity to make the most of the space. 
For a powder room or guest bath, it is recommended to choose a vanity with decorative elements to create a stunning focal point.
If you want to create a space that precisely reflects your vision, custom cabinets may be the way to go. However, semi-custom cabinets could be more suitable if you want tremendous value for money.
The cost for a bathroom vanity can be anywhere from $75 to $400 per linear foot for the cabinets themselves or $150 to $600 per linear foot for the cabinets and the installation. A full bathroom custom vanity could cost as much as $10,000.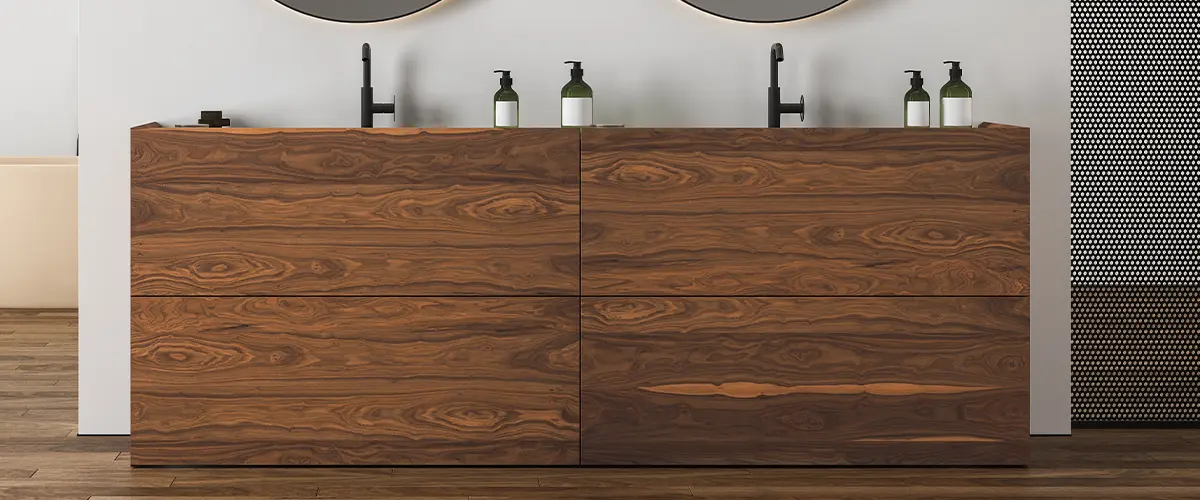 A sparkling new vanity must be paired with an equally appealing countertop. Not only are they aesthetically pleasing and beneficial, but they are also utterly essential to any space!
If you want a durable countertop that can last a long time, quartz is the perfect choice. Quartz worktops have a uniform appearance and texture, without any veins, making them a classy addition to your bathroom. 
Moreover, these worktops are resistant to scratches, hence perfect for high-traffic areas in your home.
| Material | Typical Cost (per square foot installed) |
| --- | --- |
| Laminate | $27 - $34 |
| Quartz | $50 - $200 |
| Hardwood | $30 - $40 |
| Marble | $40 - $200 |
| Granite | $50 - $400 |
| Stainless Steel | $80 - $225 |
To refinish your current wood floors, you can expect to pay between $3 to $8 for each square foot. A thing to keep in mind is that labor costs will make up a significant portion of the overall project expense, up to 80%. 
If you plan on installing wood floors in a bathroom, remember that it may not be the most suitable option due to moisture. Ultimately, it's your choice to make.
Although porcelain tiles are a top-quality option for bathroom flooring, they are more expensive than other materials. Generally, professionally installed tiling costs between $10-$30 per square foot on average.
A more affordable option would be luxury vinyl tiles or planks. These materials are made to resemble the natural look of stone or wood without many of their disadvantages. LVP floorboards generally cost from $5 to $15 per square foot.
| Material Type | Typical Cost Per Square Foot |
| --- | --- |
| Standard Vinyl Plank | $2 - $5 |
| Luxury Vinyl Plank | $4 - $10 |
| Rigid Core Vinyl Plank | $10 - $12 |
| Waterproof Vinyl Plank | $10 - $14 |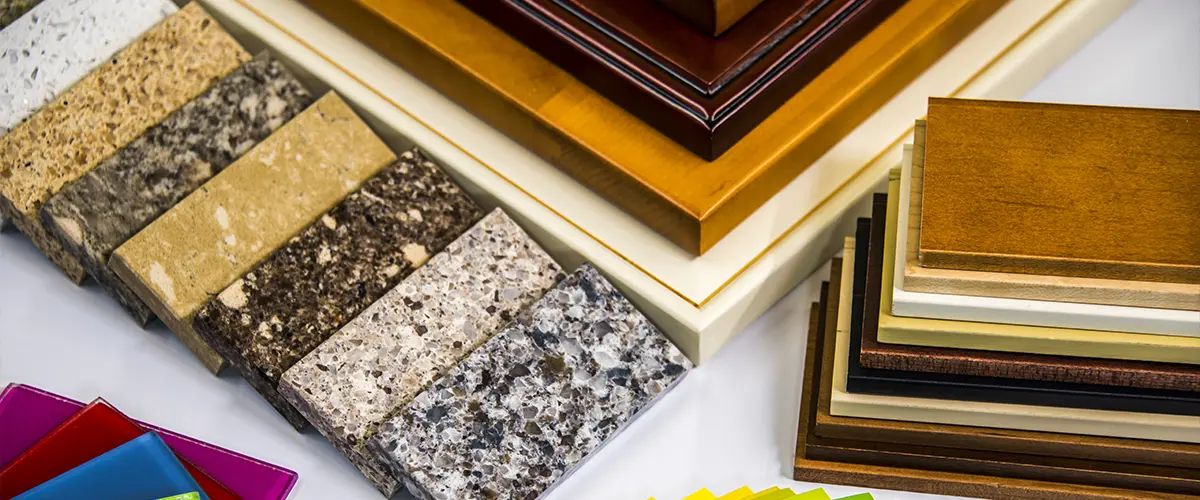 During a bathroom makeover, getting a walk-in shower with glass doors or a freestanding tub can significantly enhance the look of your bathroom. However, it may come at an additional cost. Despite being costly, investing in these items for your remodel will bring long-lasting benefits, which are worth the expenditure.
The cost of remodeling a shower with bathroom tile can range from $1,000 to $5,000 depending on the size of the shower and the materials used. Most walk-in showers are renovated for around $1,000 or more. 
Additionally, the cost of a free-standing tub can vary from $2,000 to as much as $10,000 for a higher-end option.
Other Features And Upgrades
At Offcut Interiors, we know that what boosts the basic level of comfort of a home are the little things.
Besides what we mentioned, these will also add to the final quote, but will also make your bathroom complete.
Budgeting For Your Bathroom Remodel Cost In Phoenix
Renovating any room in your home, especially the bathroom, requires a significant amount of effort, time, and money. However, there are some tricks that can help you stay within your budget and make the renovation process run smoothly. 
These budget-friendly tips won't force you to compromise on the quality of your renovation. So, here are some money-saving tips for renovating your bathroom!
If you do not consider bathroom self-care important, it may be wise to spend less money on minor upgrades. Conversely, if your bathroom is your go-to destination for relaxation and retreat, investing more resources in creating an inviting space might be a good idea.
Collaborating with design experts can ensure that the style and layout of your space meet your standards, leading to greater comfort during your time there.
It's important to prepare for unexpected issues during bathroom renovation such as mold, mildew, and plumbing troubles. Despite their initial appearances, these can be crucial elements to consider.
To avoid unexpected situations, it's best to allocate an additional 20% of your project cost as a safety net. This extra money will come in handy if anything unforeseen happens, and you can always leave it untouched in your account if everything goes smoothly.
To ensure proper financial planning, it is crucial that you fully comprehend the services for which you are paying. It is your responsibility to take the necessary time to carefully select a trustworthy and honest contractor.
Ask your contractor questions about anything that comes to your mind, and consult with him regarding other materials or your concerns.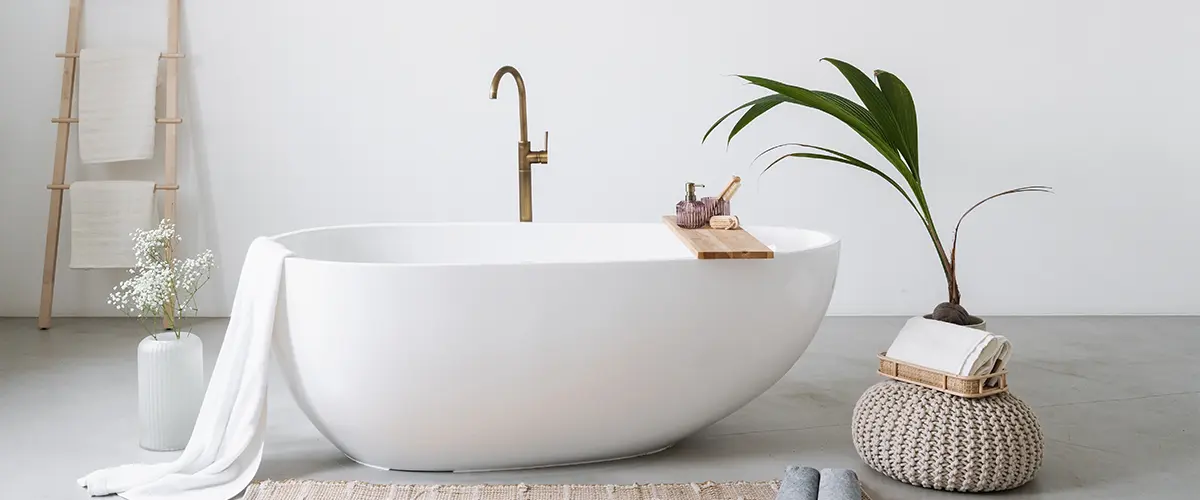 Get Pricing Transparency For Your Bathroom Remodeling Cost In Phoenix!
Whether you have a small or large bathroom, the experts at Offcut Interiors will collaborate with you to create the perfect design for your home.
For a bathroom renovation in Phoenix that includes modern and efficient upgrades, expect to spend an average of $30,000. But if you have a lower budget, we can still provide quality solutions that fit within your price range.
With our bathroom remodeling services, we ensure that your project stays on track and within budget. We tend to over-deliver, so expect:
Begin Your Bathroom Remodeling Project Today!