Bathroom Remodeling Cost In Peoria, AZ
No time to read? Get a personalized quote for your bathroom remodeling project now!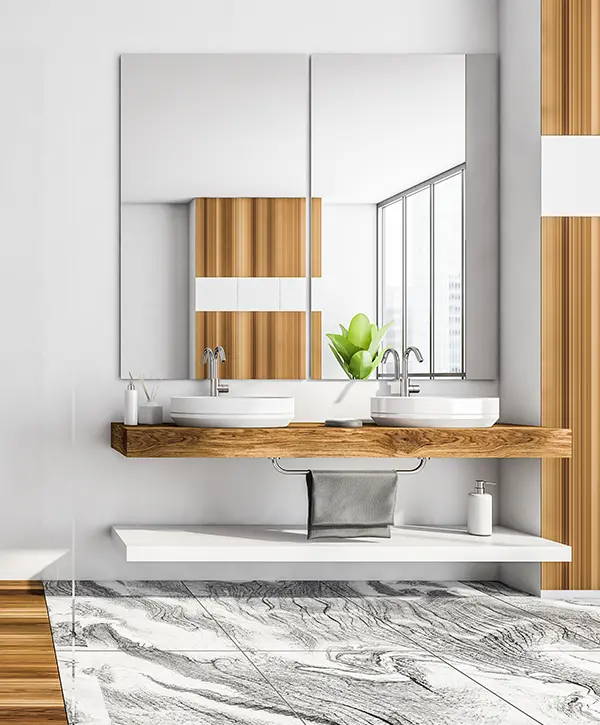 The bathroom remodeling cost in Peoria is one of the most common concerns for our customers.
In fact, bathroom remodeling is one of the top three home improvements with the greatest return on investment, according to the Cost vs. Value Report 2022. Minor bathroom repairs provide a 67.5% return, while major bathroom renovation returns 59.5 percent.
If you're wondering about the cost of remodeling your bathroom, Offcut Interiors is here to give you peace of mind.
We'll provide a detailed breakdown of all costs so that you know exactly what to expect.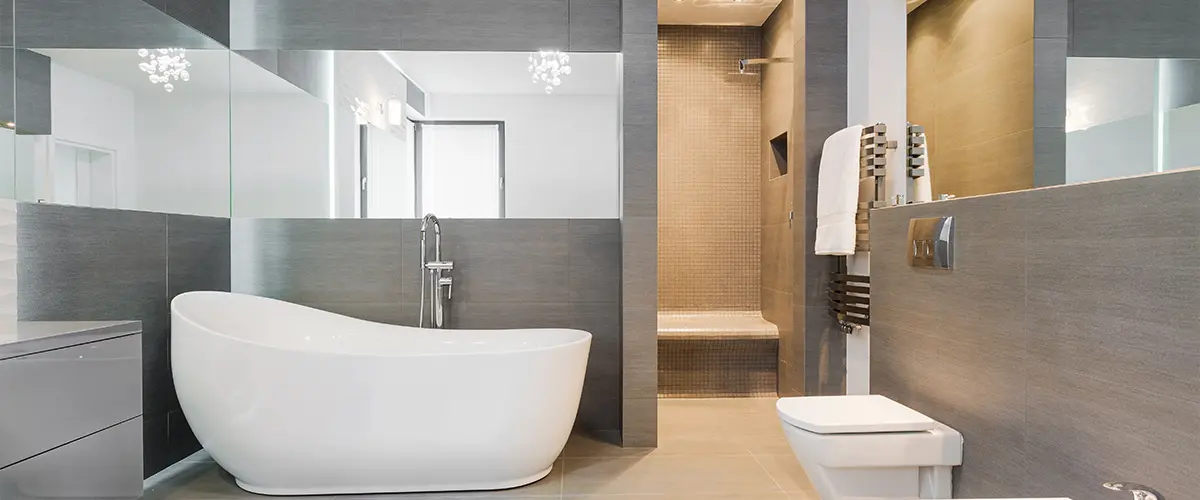 The Typical Bathroom Renovation Cost In Peoria, AZ
The cost of renovating your bathroom depends on multiple factors, including the size of the space, materials used, and other personal details. For example, it would be more expensive to remodel a large bathroom than it would be to revamp a smaller one.
To give you an idea regarding what typical expenses are in Peoria, AZ, for different-sized bathrooms, here are some estimate costs.
| Size/Category | Economy | Standard | High-end | Luxury |
| --- | --- | --- | --- | --- |
| Small Bathroom (5'x8′) | $9k – $12k | $12k– $15k | $15k– $18k | $18k– $22k |
| Average Bathroom | $12k - $14k | $15k – $12k | $19k – $25k | $25k – $30k |
| Large Bathroom | $20k – $25k | $25k – $35k | $35k – $50k | $50k – $80k |
| Category | Economy | High-end |
| --- | --- | --- |
| Small Bathroom (5'x8′) | $9k – $12k | $15k– $18k |
| Average Bathroom | $12k - $14k | $19k – $25k |
| Large Bathroom | $20k – $25k | $35k – $50k |
At Offcut Interiors, you'll get a precise pricing quote that covers everything, top to bottom. We'll keep your remodel within your set budget, and we'll work together to find the most cost-effective solutions.
Labor In A Bathroom Renovation Cost In Peoria
There are several aspects to consider when planning a renovation, such as the building and carpentry work that will need to be completed. By working with experienced professionals, you can ensure that your bathroom remodel goes off without a hitch.
An architect is required if you need to build new walls in your project. You will need the architect's sketches and plans in order to apply for a building permit. 
Architects generally charge between $65 and $400 per hour or a one-time fee of 10% to 20% of the total cost of your project.
A knowledgeable designer will help you discover and build your new bathroom according to your needs, wants, and preferences. 
Designers charge 10-20% of the overall renovation cost; one-time consultation costs range from $300 to $1,500 depending on their skill level.
Plumbers are needed to fix any water issues that we may find or to install new lines if you're planning to add a shower or a tub.
Plumbers charge between $70 and $150 per hour for their services, in addition to any necessary materials expenses.
You'll need an electrician to check the current state of the wiring system. This will guarantee that the electric installation is secure.
Usually, an electrician costs between $80 and $150 per hour in addition to supplies.
A Complete Remodeling Service - With Offcut Interiors
At Offcut Interiors, we know finding all these experts and working with them separately can quickly become a nightmare.
We're here to fix this, so we vetted the best tradesmen in Arizona and we're bringing them all together to work on your project!
Everyone we work with is well-accustomed to our mission, goals, and principles. We'll all treat your home and family with respect, and we're all fully dedicated to seeing your vision through. Your complete satisfaction is our final goal, and we're not calling it a day until we achieve that.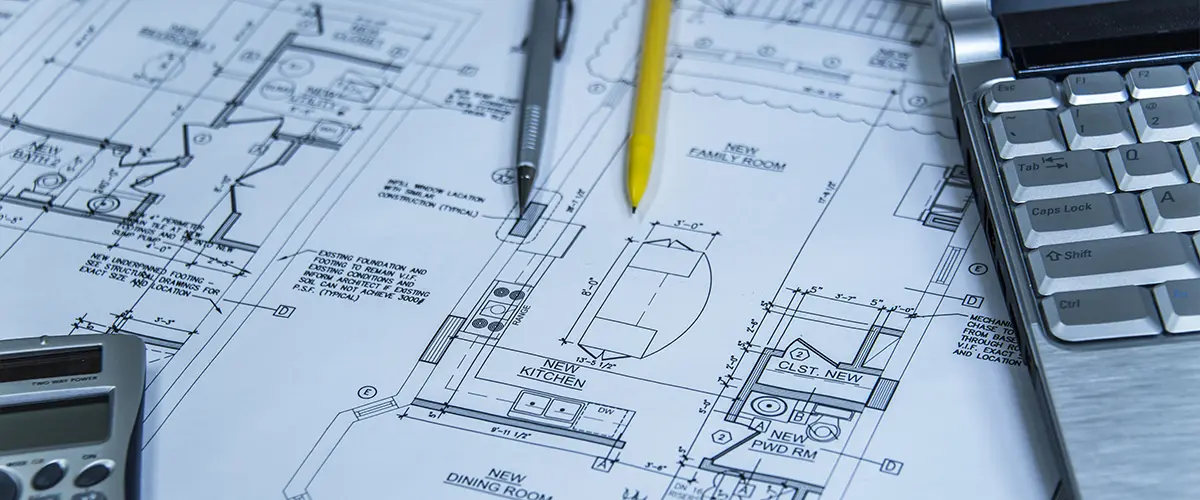 Bath Renovation Cost In Peoria By Upgrades
Here is the cost of some of the most popular improvements and renovations in Peoria, Arizona, to provide you with an idea of how much money you'll need for your bathroom makeover:
Double vanities are the most common upgrade in new bathrooms and for a good reason. These take up a lot of space, so they'll set the mood of the room. Besides this, they offer extra storage and increase your bath's functionality in many ways.
If you have a small bathroom, a small vanity will do just fine, and we're seeing a lot of people going for a decorative and unique vanity for guest baths or powder rooms.
Choosing one with ornamental elements as a focal point in a powder room or guest bath would be ideal.
Note: As per KCMA, you'll get the most value out of a semi-custom vanity, so if you're looking for the highest ROI, that would be your best choice.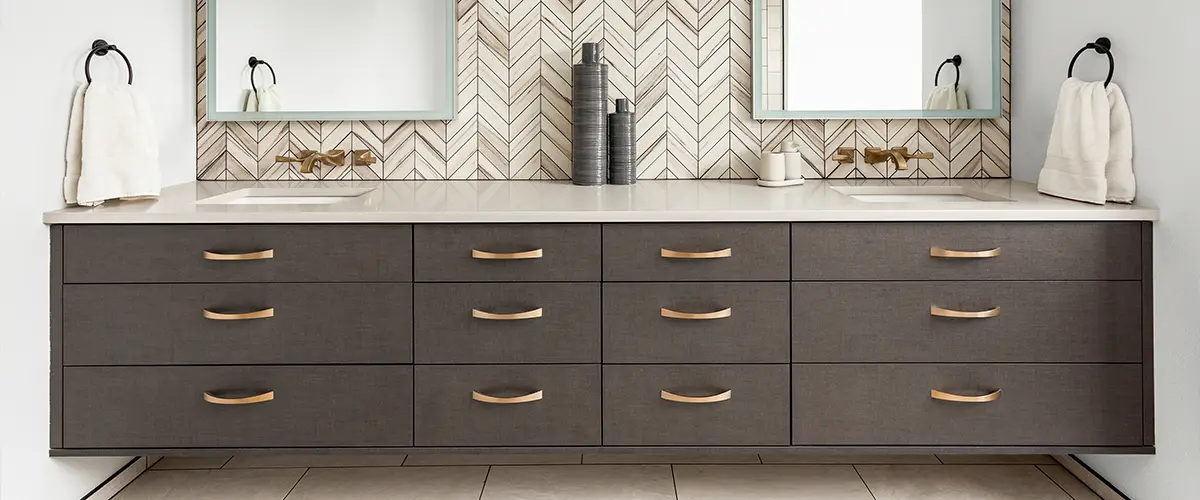 Countertops must be low-maintenance to avoid additional work than benefit.
Quartz is an excellent material to consider if you want a countertop that will last a long time. High-quality quartz worktops are free of veins and have a consistent look that can improve the appearance of your bathroom area.
They're also scratch-resistant, making them ideal for areas in your house that see A LOT of use. Quartz comes in at around $75-$100 per square foot, putting it in the middle to high range when compared with other choices such as laminate or solid surface materials.
Although materials like granite or marble give your bathroom a luxurious feel, the higher cost of materials and installation is one of the biggest reasons people give up on them.
| Material | Typical Cost (Per square foot installed) |
| --- | --- |
| Laminate | $30-$72 |
| Quartz | $72-$240 |
| Hardwood | $54-$300 |
| Marble | $102-$360 |
| Granite | $72-$300 |
| Stainless Steel | $109-$275 |
Although it's common, you don't always need to upgrade your flooring; for example, if your hardwood floors are only lightly damaged, refinishing them will make them look good as new.
If you're interested in renovating your hardwood floors, consider using porcelain tiles instead. They usually run between $10 and $30 per square to install, not including materials.
Luxury vinyl tile and plank is also good option for your bathroom. The national average cost to install LVT is $800 to $2,400, with most people paying around $1,600 to install 200 sq. ft. of 20 mils 12"x24" LVT with a textured stone finish.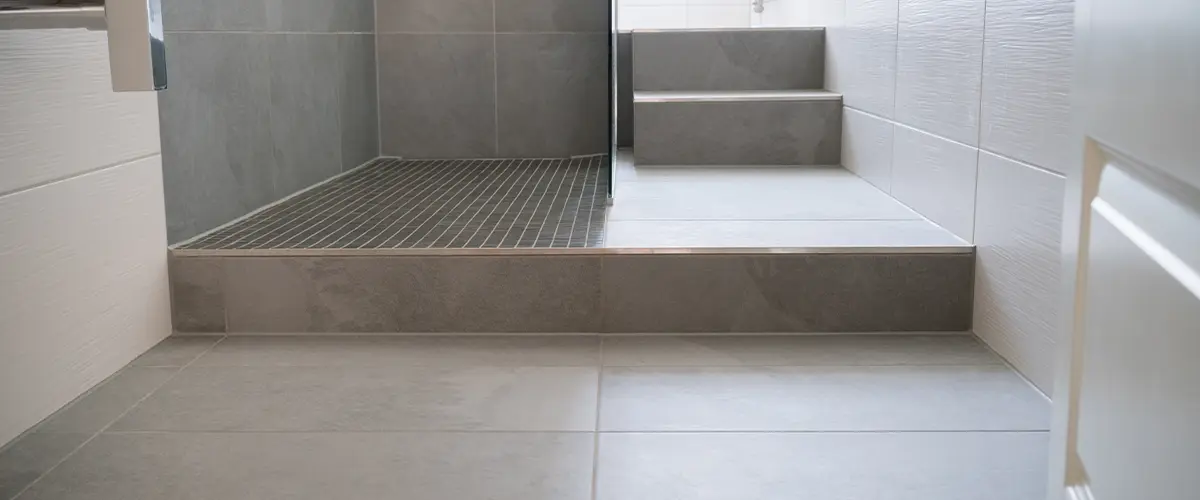 During your bathroom makeover, consider replacing an old tub with a walk-in shower and glass shower doors, or installing a freestanding tub if that isn't feasible. Although it will increase the cost of your Peoria bathroom remodeling, it will be well worth it in the long run.
The costs of a shower remodel can depend on a few different things, but typically range from $1,000 to $5,000. The size of the shower and the materials used are usually the biggest contributors to cost. In some cases, it may be more expensive to tile both the flooring and walls than it would be to install a shower pan.
In other words, porcelain is considered higher quality than ceramic by most local homeowners and bathroom remodelers; however, prices can range from $2k to upwards of $10k in some cases.
Other Features And Upgrades
At Offcut Interiors, we know that what boosts the basic level of comfort of a home are the little things.
Besides what we mentioned, these will also add to the final quote, but will also make your bathroom complete.
Budgeting For Your Bathroom Remodeling Cost In Peoria, AZ
Home remodeling shows don't go into detail about how much each upgrade costs and what it entails. This leads to people having unrealistic expectations for their projects, so they underbudget and start their journey with the wrong expectations.
To combat this, here are a few tips on how to be fully prepared for your bathroom remodel!
If you're working with a tight budget, the best way to keep your remodel within that set amount of money is to quit thinking about things you won't use.
For example, maybe you're the type of person who enjoys quick showers so they can get straight to work, and not soaking in a tub for hours.
On the other hand, if you lack storage space in the rest of your home, a double vanity to store all the towels is a great upgrade.
Although it may not appear to be the case at first, one of the most essential aspects of renovating your bathroom is preparing for unanticipated circumstances.
Miscalculating the budget for your building project can result in Plumbing difficulties, mold, and mildew. By planning for these potential problems from the start by adding an additional 20% to your total budget, you'll be much better off!
Furthermore, if everything goes smoothly, this extra money will just sit in your account.
Most people are unaware that, in general, renovating a bathroom is less expensive than changing a bedroom or kitchen. Part of having a breezy experience is being knowledgeable about all the costs prior to beginning the project; that way, there are no unwelcome surprises down the road.
Ask your contractor plenty of questions to make sure you're fully in the know with your upcoming remodel.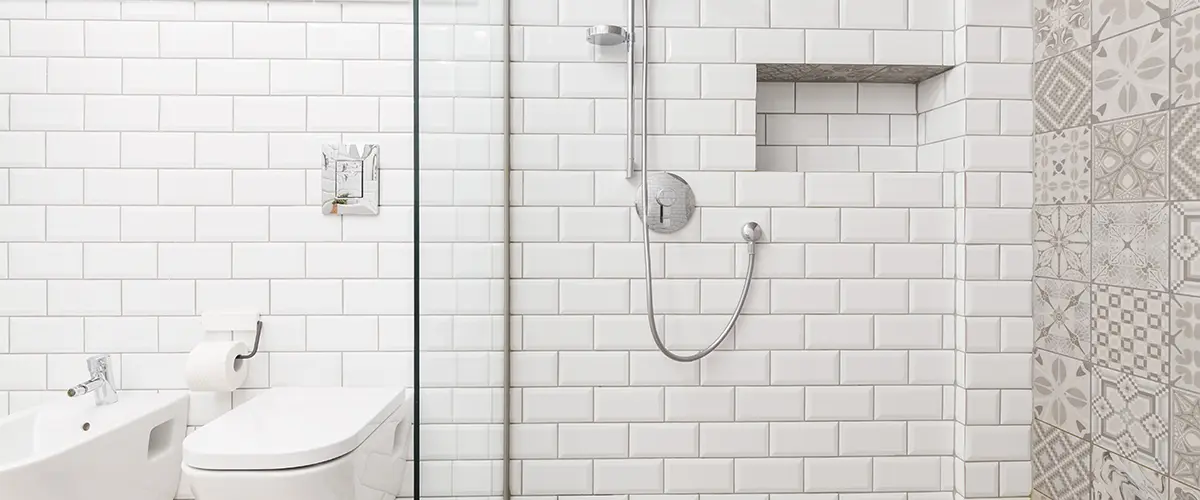 Get Pricing Transparency For Your Bathroom Remodeling Cost In Peoria, AZ!
Offcut Interiors will work with you to design your ideal bathroom.
No matter how big or small the project is, our experts will dedicate themselves to seeing your vision through and transforming it into reality.
While the average cost of a bathroom remodeling project is around $30,000; we've worked on baths that cost as little as $15k and as high as $80k. With the right guidance, we'll find the best solutions for your bathroom without breaking the bank!
Unlike most bathroom remodeling companies, we tend to over-deliver, so expect:
Begin Your Bathroom Remodeling Project Today!