The Best Bathroom Remodeling Cost In Glendale
No time to read? Get a personalized quote for your bathroom remodeling project now!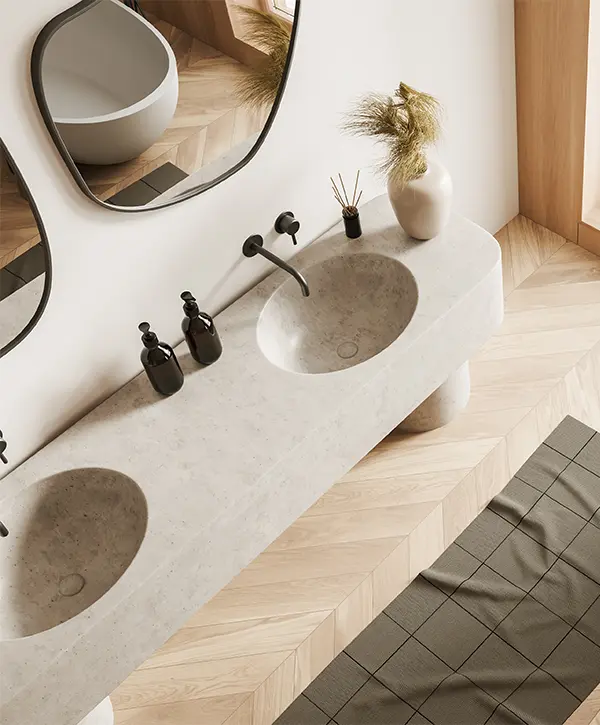 An average bathroom remodeling in Glendale, AZ, costs around $30,000 and is one of the top three home improvements with the greatest return on investment, as per Cost vs Value Report 2022.
Offcut Interiors is Glendale's bathroom specialist, devoted to creating a beautiful and timeless bathroom that will make it feel like it's truly yours.
We'll provide a fair and transparent breakdown of all costs so that you know exactly what to expect.
Your remodel will become our top priority, and we'll go the extra mile to see you completely satisfied with your new bath!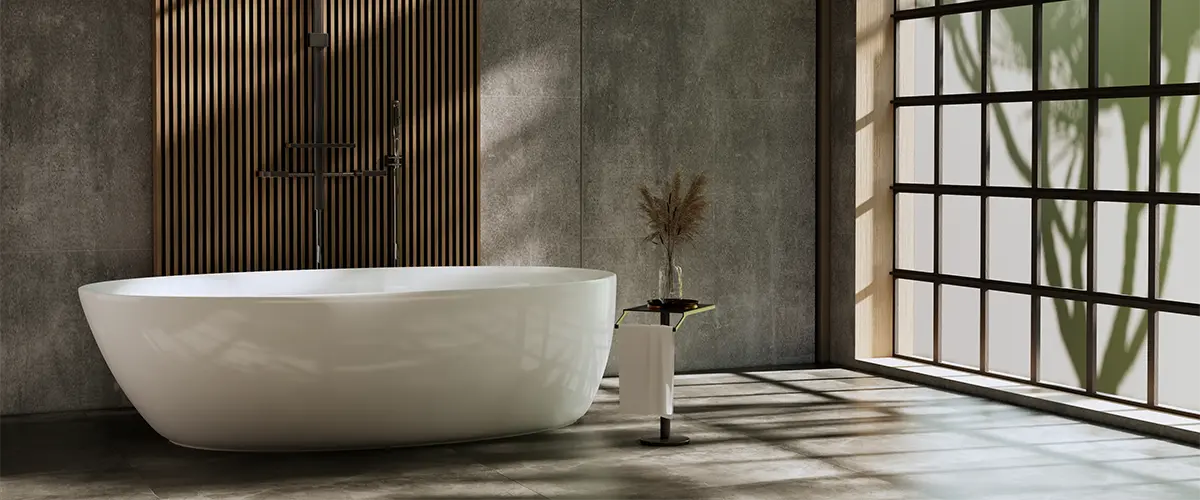 The Typical Bathroom Remodels Cost In Glendale
The cost of transforming your bathroom is highly dependent on several components, including the room's size, the materials you decide to use, and your preferences.
To give you a clearer idea about the bathroom remodel cost based on sizes, here are some estimates:
| Size/Category | Economy | Standard | High-end | Luxury |
| --- | --- | --- | --- | --- |
| Small Bathroom (5'x8′) | $9k – $12k | $12k– $15k | $15k– $18k | $18k– $22k |
| Average Bathroom | $12k - $14k | $15k – $12k | $19k – $25k | $25k – $30k |
| Large Bathroom | $20k – $25k | $25k – $35k | $35k – $50k | $50k – $80k |
| Category | Economy | High-end |
| --- | --- | --- |
| Small Bathroom (5'x8′) | $9k – $12k | $15k– $18k |
| Average Bathroom | $12k - $14k | $19k – $25k |
| Large Bathroom | $20k – $25k | $35k – $50k |
Get your free quote from Offcut Interiors now and enjoy having the best pros in town on your project! We'll make your remodel worth it by transforming it into an investment!
Labor In A Bathroom Remodel Cost In Glendale
Depending on the changes you want to make, you'll need different professionals for every stage.
An architect is required if you need to build new walls or demolish old ones in your existing bathroom. He'll make sure the structure remains safe, and you'll need his drawings and plans to easily get the building permit for your remodel!
Architects generally charge between $65 and $400 per hour or a one-time fee of 10% to 20% of the total cost of your project.
To create a beautiful, efficient bathroom, you'll need the help of a professional bathroom designer. A knowledgeable designer will make sure your new bath is fully functional and looks great with the rest of your home.
Designers charge 10-20% of the overall renovation cost; one-time consultation costs range from $300 to $1,500 depending on their skill level.
Before you start finishing off the new bathroom, a plumber is required to make sure all the installation is up to code and functioning at 100%. A good plumber will address the problem at its source, ensuring you won't have to experience slow or clogged drains.
Plumbers charge between $70 and $150 per hour for their services, in addition to any necessary materials expenses.
The safety of you and your loved ones is always a top priority, so when you're moving your appliances, be sure to upgrade the electrical wiring as well. Many homes still have wiring installation from many years ago, rendering it dangerous and inefficient.
Usually, an electrician costs between $80 and $150 per hour in addition to supplies.
Get All In One With Offcut Interiors Premium Remodeling Services
Avoid the hassle of recruiting multiple people for your bathroom remodeling in Glendale, and get everything you need right now!
Offcut Interiors brought together some of the most talented tradesmen in Arizona to help you see your vision through. We're working with skilled professionals who follow the same values and are all-in for your success.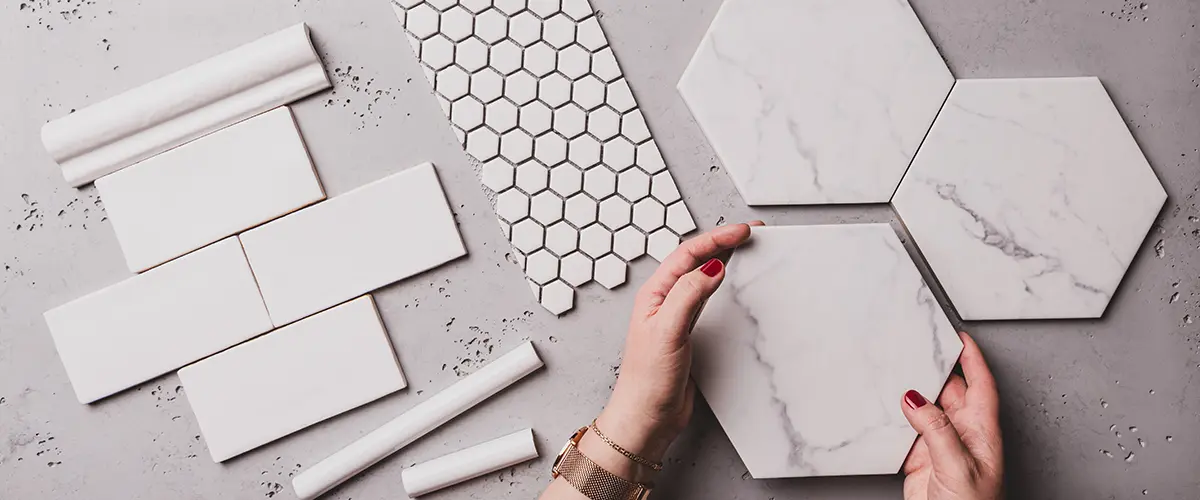 Bathroom Remodel Cost In Glendale By Upgrades
Here is the cost of some of the most popular materials, features, and upgrades you can get for your new bath.
Adding a vanity that reflects your style in a small bathroom could make the space more inviting and aesthetically pleasing. If you lack storage in your regular-sized bathroom, consider opting for an efficient twin vanity to maximize the efficiency of the room.
Choosing one with ornamental elements as a focal point in a powder room or guest bath would be ideal.
If you are looking to create a space that precisely reflects your vision, custom cabinets may be the way to go. However, if you want tremendous value for money, semi-custom cabinets could be more suitable.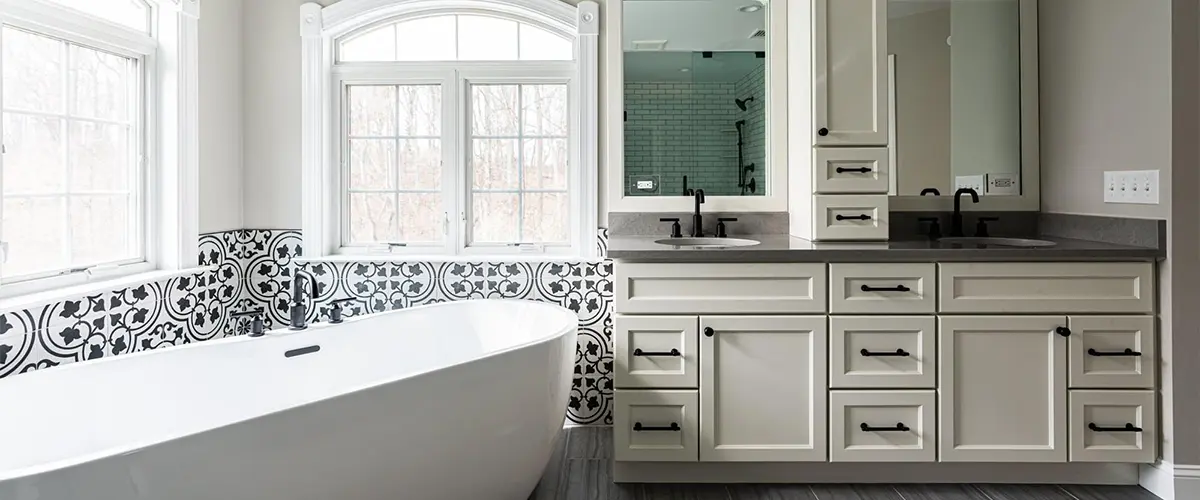 A sparkling new vanity must be partnered with an equally appealing countertop. Not only are they aesthetically pleasing and beneficial, but they are also utterly essential to any space!
Quartz is the perfect material for those who desire a countertop that will stand the test of time. With their consistent, vein-free look and feel, quartz worktops lend an elegant touch to any bathroom area. They're also scratch-resistant, making them ideal for areas in your house that see A LOT of use.
Quartz comes in at around $75-$100 per square foot.
Other materials like granite in the bathroom mean having strength, durability, and scratch resistance. However, the high cost of installation is one of the most significant drawbacks of utilizing granite or marble in the bathroom.
| Material | Typical Cost (Per square foot installed) |
| --- | --- |
| Laminate | $30-$72 |
| Quartz | $72-$240 |
| Hardwood | $54-$300 |
| Marble | $102-$360 |
| Granite | $72-$300 |
| Stainless Steel | $109-$275 |
Pros usually charge between $3 to $8 per square foot for refinishing existing wood floors. However, labor costs will make up to 80% of the final project cost.
While we wouldn't recommend wood floors in a space as damp as a bathroom, the choice is yours!
Porcelain tiles are the superior choice for bathroom flooring, yet they come at a higher cost than most other bathroom flooring materials. On average, you can expect to pay somewhere between $10-$30 per square foot of professionally installed tiling.
A more affordable option would be luxury vinyl tiles or planks. These materials are made to resemble the natural look of stone or wood but without many of their disadvantages. LVP floorboards generally cost from $2.5 to $12 per square foot.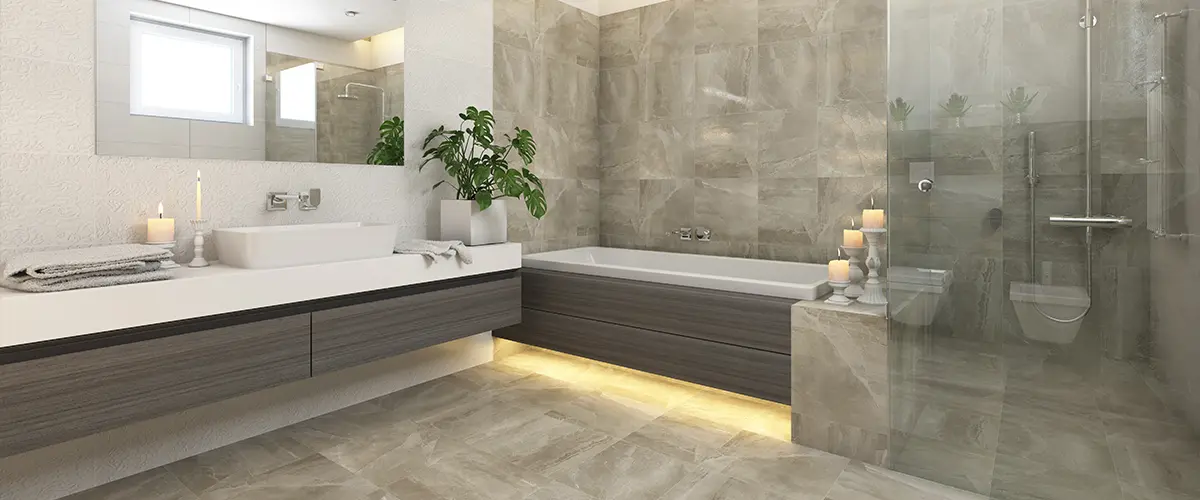 A walk-in shower with glass doors or a freestanding tub can dramatically elevate your bathroom's look during a makeover – even if it may come at an extra cost.
Although investing in these items for your remodel might be more expensive, you'll find that their benefits will last much longer than the money spent on them.
A shower remodel cost with bathroom tile ranges from $1,000 to $5,000. The majority of walk-in showers are renovated for around $1,000 and up. The expense is primarily determined by the size of the shower and the materials used.
Free-standing tubs will also cost anywhere from $2k to up to $10k for a more elegant tub.
Other Features And Upgrades
At Offcut Interiors, we know that what boosts the basic level of comfort of a home are the little things.
Besides what we mentioned, these will also add to the final quote, but will also make your bathroom complete.
Budgeting For Your Bathroom Remodel Cost In Glendale
It takes great effort, time, and money to upgrade any room in your home, let alone the bathroom.
Despite this, there are quite a few tricks that you can do to keep your renovation going smoothly and within your set budget. None of them will have you choose the less beneficial option for you, so don't worry.
Here are some money-saving tips for renovating!
If you're someone who doesn't prioritize pampering themselves in the bathroom, it may make sense to spend less money on minor improvements.
On the other hand, if your favorite place for retreat and relaxation is your own bathroom, then allocating more resources to make this space as inviting as possible might be a good idea.
Working closely with design experts can help ensure that both style and layout are up to par so you'll feel comfortable while spending time there.
Despite initial appearances, one of the most crucial elements in bathroom renovation is preparing for unexpected issues. Mold, mildew and plumbing troubles can all arise during this process – so it's important to be ready!
To be safe and avoid unpleasant surprises, set aside 20% more than your total project cost. It is better to have it in case of unanticipated events rather than regret not doing so! And if all goes well, this extra money can simply stay untouched in your account.
It's of utmost importance that you completely understand what it is you're paying for so that you can plan your finances in advance. Choosing a reliable and truthful contractor rests on you taking time and making sure selections are made judiciously.
Ask your contractor questions about anything that comes to your mind, and consult with him regarding other materials or your concerns.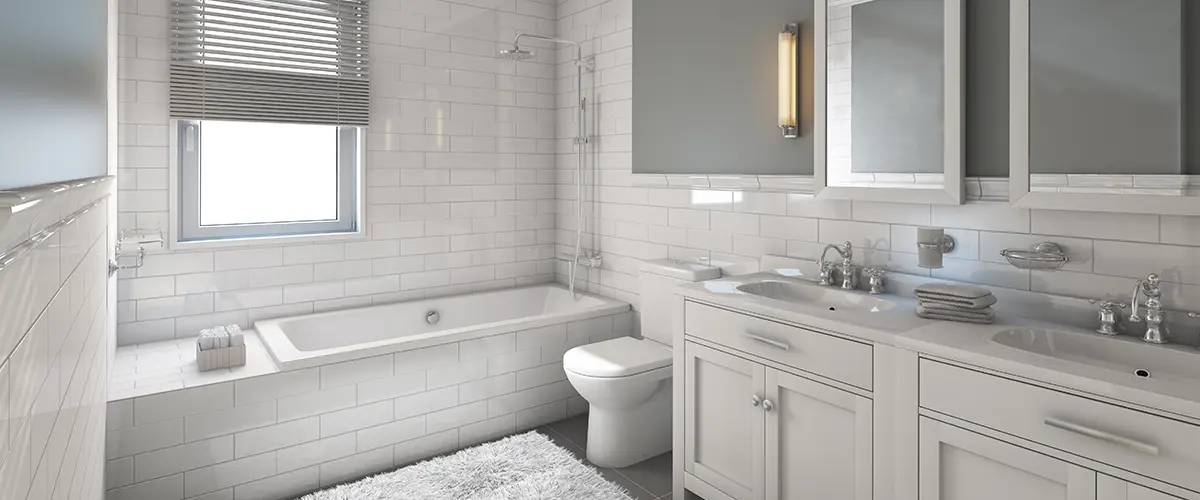 Get Pricing Transparency For Your Bathroom Remodeling Cost In Glendale!
Offcut Interiors professionals will work with you to design the ideal bathroom for your house, whether it's large or small.
The average cost of a bathroom renovation in Glendale is around $30,000 if you want a beautiful space with some of the latest and most efficient upgrades. However, depending on the budget you have in mind, we can find some more affordable solutions without sacrificing the quality of your new space.
With our bathroom remodeling services, we ensure that your project stays on track and within budget.
We tend to over-deliver, so expect:
Begin Your Bathroom Remodeling Project Today!